Big deals inked in US mission
( 2003-12-20 00:47) (China Daily)
Business contracts between Chinese and US businesses totalling US$1.59 billion signed on Thursday add substance to a consensus reached earlier this month by leaders from both countries.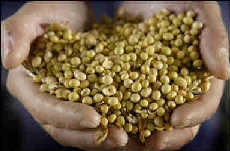 China has signed contracts with US businesses totalling 1.59 billion dollars, including 1.4 billion dollars worth of soybeans, in an effort to appease American concerns over a growing trade surplus. [AFP]

Chinese Premier Wen Jiabao and US President George W. Bush agreed to strengthen economic and trade relations between the two countries during Wen's visit to the United States.

Members of a Chinese purchasing mission signed the contracts to import US soybeans and electro-mechanical equipment at the Chicago Board of Trade (CBOT). The mission was organized by the China Chamber of Commerce and its US counterparts.

China is the largest customer for US soybeans. Since September, it has purchased more than 7.35 million tons of soybeans, according to statistics from the American Soybeans Association.

News that China committed to buy 2.5 million tons of US soybeans and may buy another 2.5 million if the price is right was not released until the CBOT soybean futures market was closed on Thursday, when soybean futures fell on lower-than-expected export sales.

Domestically, the soybean futures market in Dalian in Northeast China's Liaoning Province failed to react dramatically to the delegation's buying.

The soybeans, worth US$1.4 billion, were bought by 12 Chinese edible oil producers and traders, while another US$190 million of US machinery and electronic products along with natural gas and medical equipment as well as coal mining equipment and dredging machines were also included in the deals.

"This is the sincere realization of China's efforts to balance bilateral trade,'' said Chinese Vice-Minister of Commerce Liao Xiaoqi, head of the trade delegation.

The purchasing delegation is the second to have gone to the US in four weeks.

An earlier Chinese purchasing group signed more than US$6 billion of orders including Boeing planes, General Electric aircraft engines, and General Motors and Ford cars and auto components, to help boost imports from the US.

In a news release, the Chinese delegation said China attaches great importance to economic and trade co-operation with the US and is vigorously pushing for the steady and healthy development of their economic and trade ties.

The Chinese Government encourages efforts to increase imports from the US so as to cut back on the trade deficit, the delegation said.

To resolve the trade deficit, the US should rely on expanding its exports to China, instead of restricting imports from China. It should relax its restrictions on exports of its high technology to China, Liao was quoted by the China News Service as saying.

The development of Sino-US economic and trade relations has brought tangible economic benefits to people of both countries, the delegation said.

Furthermore, the relationship will certainly make a positive contribution to the economic prosperity of neighboring countries and global economic growth at large, the delegation said.

Cheng Guoqiang, a senior expert with the State Council Development Research Centre, said Thursday's deals went as many had expected, as China has offered to balance the trade between the two countries.

Echoing Vice-Minister Liao, Cheng said the trade imbalance could not be effectively solved simply through exports of soybeans or machinery -- but exports need to include technology from the US.