Infected man has not spread virus
( 2003-12-19 01:35) (China Daily)
No one who has been in contact with the 44-year-old man in Taiwan infected with SARS (severe acute respiratory syndrome) has become ill, officials told China Daily Thursday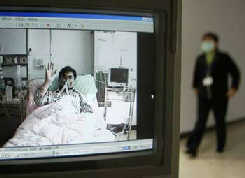 A screen showing Taiwan's latest SARS patient waving from his hospital bed in Taipei after he was tested positive for SARS December 18, 2003. [Reuters]

They believe it is more and more likely that everyone who was in contact with the man -- both in Taiwan and Singapore -- has been identified, including during the period in which the man was travelling.

Those who have been identified are now being observed. None has shown any signs of the disease.

An preliminary investigation, Taipei health officials reported, indicates the patient -- a medical researcher -- was likely exposed to the virus in the laboratory setting on December 5.

The scientist then travelled to Singapore to attend a conference from December 7 to 10, and returnedabout noon on December 10. He began to feel sick that day and immediately knew to place himself at home inquarantine.

On December 16, he phoned for an ambulance and was admitted to a local hospital with a fever.

As many as 73 people who may have been in contact with the infected man when he was visiting Singapore have been isolated, Peter Cordingley, a Manila-based World Health Organization (WHO) official confirmed in a telephone interview.

All appear healthy, he said.

He said today will be the last in a standard isolation periodif no one shows SARS symptoms.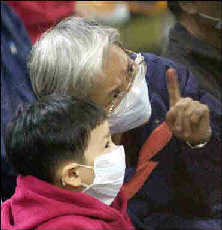 A masked father speaks to his son at Taipei Municipal Hoping Hospital. China ordered researchers on Thursday to turn in samples of the SARS virus for storage following Taiwan's announcement that a scientist had contracted the disease. [AFP]

The latency period for SARS, from the time a person is infected to symptoms appearing is about 10 days on average. It has been10 days from the time when the infected man left Singapore.

He said the WHO had yet to receive a full report from Taiwan authorities about traced contacts there -- a requirement vital for knowing for certain all encounters are investigated.

Taiwan health authorities yesterday told reporters they have found about two dozen people who were in contact with the man either in transit or in Taiwan and have put them under strict quarantine.

They include Zhan's relatives and family members, all of whom are in good health.

Taiwan health authorities saidthe patient's fever was brought down yesterday after effective treatment.

As an emergency measure, Taiwan authoritieshave asked all travellers to have their temperatures checked as they enter and exit Taiwan. The measure will be carried onuntil December 31 if no new cases are discovered.

"At the moment, this appears to be an isolated incident,'' said Henk Bekedam, a WHO representative in Beijing.

The WHO has repeatedly asked all its member countries to ensure that SARS specimens be catalogued and their storage controlled in appropriate safety-level laboratories.

It also prescribes that all unwanted or unneeded specimens be properly destroyed as soon as practicable.

China's Ministry of Health has issued an emergency notice to askall relevant institutes to strengthen management of SARS virus samples.

All such samples must be kept in institutes approved by health authority.

The ministry will soon send a panel of experts to inspect safety conditions at all the SARS virus sites.