Supreme court retries gang leader
( 2003-12-18 00:14) (China Daily)
For the first time in more than half a century, the Supreme People's Court retried a regular criminal case after a final court decision.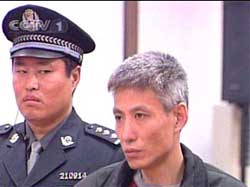 Liu Yong (R) is seen in this undated file photo. [newsphoto.com.cn]

It reheard the case against Liu Yong Thursday, a man believed to be the leader of a gang in Shenyang, the capital of Liaoning Province in Northeast China.

Yong was sentenced to death by Tieling Intermediate People's Court of Liaoning Province on April 17, 2002, but during the second court procedure on the case on August 15, 2003, the Liaoning Higher People's Court put a two-year reprieve on his sentence.

Liu, a former board chairman of Shenyang Jiayang Group, was charged with organizing, leading and actively participating in a mafia-style group, willful and malicious injury, pillage and illegal business operations.

He was also charged with tax evasion, extortion, illegally holding or hiding a firearm or ammunition, disrupting public services, intentional destroying or damaging public or private property, theft and bribery.

Marking a first since the founding of the People's Republic of China in 1949, however, the Supreme People's Court decided to hold one more trial.

China works on a two-strike criminal law system -- allowing two trials -- , but the Supreme People's Court's in this case specially initiated a retrial procedure for Liu using the Law of Criminal Procedure as a basis.

The Supreme People's Court can start such retrials in cases where it finds errors in the original judgments, said Chen Yongsheng of the Law School of Peking University told the People's Daily.

Li Guifang, deputy director of the criminal cases committee of the All China Lawyers Association, echoed Chen Yongsheng's opinion, adding that the ruling of the Supreme People's Court in the retrial will be final.

The retrial was held in Jinzhou Intermediate People's Court Thursday morning, with all the judges and judicial police of Jinzhou replaced with people sent by the Supreme People's Court.

Details of the court's ruling were not released by press time Thursday.