Kung Fu 'fairy tale' lives on
( 2003-12-18 09:03) (China Daily)
It is said where Chinese people live, wuxia novels must be in circulation.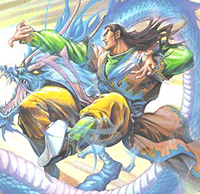 Wu means martial arts, and xia means a heroic and chivalrous spirit. Wuxia novels are also regarded as fairy tales for adults.
Talking about the imaginary world of people with superb martial arts, or Chinese kung fu, these "fairy tales for adults" have become a cultural phenomenon in Chinese communities around the world.
However, though the fad still continues, it is losing momentum. The fact is the most frequently read and talked-about wuxia books of today are masterpieces written some 20 to 50 years ago by the older generation of writers. After the glorious age of Louis Cha, Leung Yu-sang and Ku Lung, the younger novelists seem to have been trapped in a stalemate when seeking breakthroughs both in the market and in writing.
In an article called "The wuxia novels in the post-Louis Cha era," the authors make an adept diagnosis of the problems of today's wuxia literature. Written by Wu Xiuming, a professor of the Chinese Literature Department at Zhejiang University and an active critic of popular literature, and Chen Jie, his graduate student, the article was published in the latest issue of Literary Review.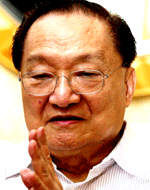 Louis Cha, Chinese most noted wuxia writer.

One reason for the genre's present problem, as they point out, is that compared with Louis Cha's time, today's cultural consumers are offered much more alternatives. Pressed by the mushrooming growth of the multi-media cultural industry, wuxia novelists have to work harder to grab market share.

Another reason is that while the readers' values and tastes have experienced dramatic changes during recent decades, most of the writers are still following the old way of writing: What was the touching heroic spirit to Louis Cha's old readers, might be less inspiring to their children; and what was original with Ku Lung could be stale after too much imitation.

Of the newer batch of wuxia novelists, Wen Rui'an and Huang Yi are the most influential. In the rather humdrum landscape they distinguish themselves by notable personal characteristics. On the other hand, their practices are also indicative of the common weakness of all the contemporary wuxia writers.

Abstract writer

In many aspects the Taiwan author Wen Rui'an inherits Ku Lung's peculiarities in writing, which, compared with the orthodox way of Louis Cha and Leung Yu-sang, were radically experimental when they first appeared.

Louis Cha, whose texts are deemed the classics of traditional wuxia writing, has a theory about fabrication: "To make a lie credible you'd better tell 10 true things with it." In his most acclaimed novel, "Duke of Mount Deer (Ludingji)," the half-villain, half-hero young protagonist Wei Xiaobao often manages to get along by using this strategy.

The theory works as well when applied to Louis Cha's writing. In his books, the stories are always set in contexts full of rich and faithful historical details; the rationales and terminologies of martial arts are elaborately related. As a result, he somehow achieves a sense of verisimilitude for the utopia of his martial arts heroes.

Ku Lung's way of dealing with the particulars of history and martial arts is to simply disregard them. In most cases his characters just live in a historical vacuum, though, of course, the environment in which they act is profoundly ancient Chinese in culture and in its aestheticism.

He simplifies the complicated skills of martial arts to two main points: one is speed, the other is no skill at all is better than having skill. Instead of recounting the specifics of fighting, he uses more pages to paint the intangible and visionary things: the mood, the atmosphere, the volition etc.

Ku Lung's writing practice inspires many imitations, among them Wen, who is the most successful. His most important work, the series of "The Four Lawmen (Sida Mingbu)," to which he has kept adding new episodes over the course of 30 years, has always been popular and has been adapted into up to 20 TV series.

Wen's style is not without his unique personal charm. As a young man, he was fascinated by poetry and wrote poems for many years. The experience later helps give a strong touch of poetic quality to the mood and images of his wuxia novels.

However, just as the article says, "Wen's effort to transcend Ku is mostly on the form but not on the content." Like his teacher, he also introduces some elements of modern fiction into wuxia writing, such as the use of quick montage shots, and the skills of Western detective stories.

Sometimes he carries the formal experiment to so extreme a point that it looks just like a mere play on words. For example, while Ku was notorious for his one-sentence paragraphs, Wen often writes paragraphs that are composed only of one word, or even only of punctuation marks.

The quality of Wen's novels also suffers from too much writing. Since his first wuxia story was published in 1971, he has managed to work out up to 400 titles of works, including short stories, novellas and novels. Many readers complain that the books of his later years are much inferior to those written in his earlier time.

A star rising in the 1990s was another Taiwan writer, Huang Yi. He is a writer for the new generation.

Resourceful novels

In about 10 years, Huang has published 21 wuxia novels, most of which are very long.

A reason for Huang's popularity with contemporary youngsters is he takes inspiration from many sources. On one hand, like most wuxia writers, he has a broad interest in traditional Chinese culture. In university he was trained to be a painter of traditional Chinese art. And he admits that he has wasted time in cultivating hobbies such as playing the guqin, a seven-stringed zither with very ancient origins, practising yoga, studying fengshui, a traditional science of geomancy, and reading all kinds of books about ancient arts and history.

On the other hand, Huang is a devoted worshiper of high-tech items and an enthusiastic fan of computer games.

Shaped by such varied cultural influences, the works of Huang have many aspects. The traditional realm of kung fu knights is combined with the elements of high-tech science, big war scenes, and strategic maneuverings as required in computer games.

In his most well-known novel, "Looking for the Emperor of Qin (Xunqinji)," the hero Xiang Shaolong, a modern time police officer, is sent by a time machine to the Qin Dynasty (221-206 BC) to look for Qinshihuang, the first emperor of imperial China.

Huang delights in interweaving metaphysical thinking into his presentation of an uncanny multi-dimensional world. For example, he explains the name of his first wuxia novel, "The Broken Vacancy (Posui Xukong)," as "we usually look up at the brilliant stars and think they are the embodiment of the cosmos, but in fact the real cosmos is the vacancy between them. Breaking the vacancy, then we can get free."

However, Huang's works are branded with the common flaws of fast-food cultural productions.

The characters are of some fixed types, lacking flesh and blood; the plots are pushed forward by too many coincidences; the language he uses is usually rather unpolished.

Would the public's passion for wuxia prove to be a temporary phenomenon and finally die out, or will it last?

Louis Cha personally holds a rather pessimistic view of the future of this genre. He once said in a lecture that Robin Hoods could only live in texts but never in reality. Because the idealistic world of martial arts heroes is fundamentally flawed by its falseness, there would finally be a day of disillusion for the readers.

However, some critics think differently. They believe the Utopian longing is one of man's perpetual dreams, and no matter how civilization advances, man's curiosity for an inaccessible, visionary realm would never die. The problem is how we dig up the potentialities of this genre.