Tony Leung on acting and Infernal Affairs III
( 2003-12-17 09:23) (Shenzhen Daily)
Tony Leung, the winner of Best Actor award at the 40th Taiwan Golden Horse Awards for his role in Infernal Affairs, talks about acting and his continuing role as undercover agent Chan Yongren in the recently released Infernal Affairs III.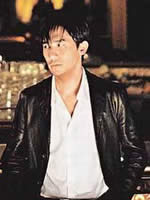 Reporter: What is the difference between part one and part three of Infernal Affairs? How do you understand these changes?
Tony Leung: In part three you can see something that you cannot see in part one. In part one you can see the pressure and burden that Chan Yongren has. That pressure is great. But in part three you can find he had a lot of happy times. Before all those incidents happen, he is animated and cheerful. So, the two parts are very different from each other.

R: In part three you worked with many other famous stars. How did you solve the pressure of working with them?
L: I never have any pressure when I make a film. I have never thought of how to attract the spotlight. I act because I enjoy the pleasure that acting brings me. I really enjoy it. I get pleasure in acting. That is what I am really after. I don¡¯t think much about drawing attention to myself.
R: What impact do you think the success of the Infernal Affairs series has had on Hong Kong¡¯s film industry?
L: The impact is tremendous. The Hong Kong film industry was at its worst when we made the part one. Its success gave many people confidence in making films. Particularly, it helped draw investors, who are now willing to put money into making films. We¡¯ve also seen that people are much more willing to visit cinemas in these days. For a certain period of time, the public seemed to have lost interest in cinemas. They would rather watch a DVD at home. It¡¯s the Infernal Affairs series that got them out to the cinemas again.
: There have been reports that you are going to retire. Is it true?
L: It¡¯s not. I am thinking that I will learn some behind-the-scene things when the time is right. I would like to try different jobs.
R: As a successful actor, what is your ultimate goal?
L: My goal is for you to get pleasure from what I do. Just like when I started my acting career, I always got pleasure after I finished a film. The pleasure was hard to describe.
R: Have you ever thought of reaching a certain level as a film artist?
L: No. I¡¯m just interested in doing films.
R: Infernal Affairs III certainly represents a fairly high level for you. Which film best shows your skills as an actor?
L: I¡¯ve never been satisfied with any film that I¡¯ve starred in. I always think my next film will be better. I guess it¡¯s motivation for me to improve.