Dancers break new ground
( 2003-12-17 08:36) (China Daily)
On a warm sunlit Sunday afternoon, a group of boys and girls danced among the cheering crowd at Xidan Square in downtown Beijing.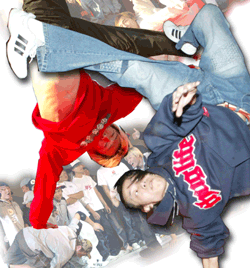 Zhou Renxun (right), boys solo champion in a recent TV competition, joins over "B-Boys" to perform challenging stunts among a cheering crowd at Xidan Square in downtown Beijing. [China Daily]

Wearing over-sized T-shirts, ragged jeans, baseball caps, bright headgears or exaggeratedly dyed hair, they were locking, popping, waving, balancing... while the crowd applauded and screamed at their stunts.

The overflowing passion, strong beats and rhythmic music encouraged the crowd to dance with them.

They are the cool "b-boys" and "b-girls" who perform break-dance, the dance genre of hip-hop culture born in New York's South Bronx in the early 1970s, which resurfaced in the early 1990s in music videos and on television commercials.

Having already enjoyed wide-spread popularity in Western countries, break-dance has taken off in China in recent years. Thanks to a spate of videos from Japan, South Korea, the United States and Germany, many Chinese youngsters have swarmed to the new craze.

Born in the 1980s or even 1990s, they are devotees of hip-pop music such as rap. They are active and fond of challenging their own limitations and expressing themselves through dance.

Not as reserved as their parents and grandparents, today's young Chinese are bold enough to show off their dance skills to the public, using the bustling streets, squares and malls as their stage.

They move to express their passion; they dance to attract the passers-by, and they wave their body to wave the whole world.

'Flashdance'

Xiao Chuan, one of China's popular break-dancers, who is also a coach teaching break-dance on China Central Television (CCTV), said China's pioneer break-dancers appeared in the mid-1980s, when the movie "Flashdance" captured the attention of some teenagers at the time. Directed by Adrian Lyne in 1983, the US movie features dashing moves by Jennifer Beals, Michael Nouri and Lilia Skala.

"The difference is that it did not become a nationwide craze and did not lead to the setting up of gyms or training courses," he said.

"Generally speaking, break-dance displays youngsters' individuality and their desire for freedom," Xiao said. "They dance in a free and easy atmosphere, learn from each other and make friends.

"Some people equate the 'b-boys' with 'bad boys.' It's not the case," he added. "Incorporated with strenuous power moves, freezes and intricate footwork, breaking requires incredible energy levels. So 'b-boys' all devote themselves to training and rehearsing. Many of them consider it not only a hobby but a career."

'B-girl'

With her hair dyed bright yellow and wearing a silver ear-ring, 20-year-old Li Yang from Zhengzhou, capital of Central China's Henan Province, is a typical 'b-girl.'

Last month, she won the solo girl's champion title in the first National TV Break-Dance Competition and her team "Star Dancers" won the team title in the competition.

Fond of music from an early age, Li learned dance and piano in primary school. But not the quiet type, as she said, Li gave up playing piano, as she could not bear sitting alone in a room to practise for a whole afternoon.

In the third year of middle school, one of her classmates, who was learning break-dance in the "Star Dancers" dance club, took her to the training course.

Fascinated by the movements and the rap music, Li applied for a weekend course.

But Li was first not permitted to do this by her parents who thought that only the "problem-girls dress themselves in that way and perform that dance in bars or discos."

"I talked to my parents, telling them it's not right to equate 'b-girls' with 'bad girls'," Li recalled. Her parents gradually accepted her choice after they saw break-dancing on TV and found Li just danced, without doing anything wrong.

One year later, Li entered a local two-year training school to learn computer science. Meanwhile she never stopped dancing on the streets after class with her friends.

"I love the free movements as well as the sense of freedom when my friends and I dance on the square. We totally relax ourselves after the tough school work. Nobody issues orders and people applaud and cheer us," she said.

Having no rehearsal room to ensure her safety, she sometimes got injured when dancing on the open-air cement surface.

Once, she dropped to the ground after doing a barrel roll at an underground walkway and broke her knee.

"It is painful when you get injured, but whenever you do well in a new movement, the joy overcomes the pain," Li said.

A love of dancing drove the active girl to make a decision - she chose to be a coach at the "Star Dancers" club.

Zhengzhou is not as open as the big cities such as Beijing, Shanghai and Guangzhou, where dancers can get more information from abroad and where there are coaches from the United States, Japan and South Korea in the dance clubs, Li said.

"I have to follow trends on the Internet almost everyday and communicate with the break-dancing friends from all over the country."

Li and many other applicants for the TV competition have known each other on the Internet.

'B-boy'

Zhou Renxun, boy's solo champion in the TV competition, is one of the famous 'b-boys' Li knew before.

Compared with Li, 21-year-old Zhou from South China's Guangdong Province bears no trademarks of the 'b-boys.'

But the young man in a black suit and tie defeated all the other 'b-boys' to win the championship and his three-boy-team "Speed" also won the second prize in the team category.

The sophomore student from Guangzhou Xinghai Conservatory of Music looks no different from the common Cantonese young men of his age when he stands silently.

But as he starts to talk, you are impressed by his sense of rhythm and desire of moving. Talking about his love for dancing, his arms are waving and his legs are locking.

"Dancing has become part of my life. I want to make people believe that everybody can dance even when you are wearing suit and tie, and carrying a briefcase to the office," said Zhou.

He uses the word "unintentionally" several times as he explains how he started dancing and breaking.

At the age of four or five, he accidentally watched a video of the 1983 movie "Flashdance," which his mother borrowed from a friend.

"I was immediately fascinated by the dance I had never seen before. I knew it was something I love, although I had no idea what it was," he recalled.

The fresh music and striking dance kept lingering in his mind, although nobody told the little boy it was hip-hop.

And it's a pity that after that glimpse of the video, he got no chance to enjoy it for a long time, except trying to imitate the movements himself.

Then a chance came when he was 12 years old. One day, his dance-loving cousin took him to a disco to celebrate a friend's birthday. In the party Zhou was once again immersed in the atmosphere of the fascinating dance and music.

"'Wow, that's it,' I cried in my heart," Zhou recalled, still with great excitement. "I felt at the peak of my enthusiasm that night, learning to dance with them."

Around that time, hip-hop and Michael Jackson were sweeping the country, taking teenagers by storm.

And Zhou naturally became one of the thousands of boys who gathered on street corners and discos to show off their break-dancing.

Zhou said he respects Jackson, but would not simply copy him. He is more interested in the dancers behind Jackson. "Everyone of them has a perfect sense of rhythm and breaking stunts," he said.

Comparing to today's "b-boys" who have rich sources from which to learn the latest world trends, in the early 1990s Zhou could only get a few video tapes from abroad and learn from Hong Kong stars such as Aaron Kwok by dancing to his fast-paced music.

"Anyway, my passion for dancing and an active personality have kept me dancing, imitating some movements of the stars and creating some of my own," he said.

At that time, China had no formal break-dancing competition. But the "b-boys" often played "battle," an informal break-dancing competition, and had their own stars in the discos, bars or in a community.

Zhou won his first championship in a Guangzhou disco.

"The reward was an electric cooker, and the championship filled me with confidence," Zhou said.

Ever since this, he has often choreographed and performed at various parties.

"I remember once I performed at a school celebration. When I walked onto the stage, the crowd burst into thunderous applause and screaming. I was overwhelmed," he said.

Four years ago, when he left his hometown of Shantou, a city in eastern Guangdong Province, for Guangzhou to apply to the High School Attached to Xinghai Conservatory of Music, his sense of rhythm and dance skills impressed the teachers.

He was admitted to the dance department where he learned ballet in the first year, then ethnic Dai and Tibet folk dances in the second year, followed by choreography in the final year.

Zhou choreographed hip-pop dances inspired by ballet and the folk dances. His performance wrapped up almost all the championships in local hip-hop dance competitions.

Zhou entered the Xinghai Conservatory of Music last year to further his studies in producing and composing pop music.

Well known in Guangzhou, the sophomore teaches break-dance in five universities and colleges and is often invited onto TV shows and to commercial promotion events.

In addition, the versatile and energetic young man has also tried to write campus songs, form pop bands and lead dances in disco.

But it's still not all of his life, Zhou said. Both break-dance and music are his hobby. His ambition is to run an advertising agency, which sounds far from dancing, but also demands talent and imagination.