An old man's journey in time
( 2003-12-17 08:36) (China Daily)
My 70-year-old father, Li Tianbing, who lives in the mountainous southern Fujian Province of East China, enjoys a high reputation as "Master Tianbing" among the local residents.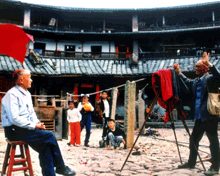 Li Tianbing, 70, takes pictures for a villager in a tulou, and enclosed circular housing complex built by the Hakka people in southern Fujian Province of East China. [File photo]

His success is closely connected with his old British-made camera, which has brought him both joy and sorrow.

In 1946, at the age of 12, my father happened to act as an assistant to a Chinese British photographer who was invited to the region by the then Kuomintang government to shoot identification card photos.

It was the first time he had even seen a camera. He was so fascinated by the magical properties of photography he followed the photographer everywhere he went, and learned the process of taking and developing photos.

He quickly mastered the techniques, but he lacked an essential tool: a camera. When the photographer finished his commission, my father - without his mother's approval - struck a bargain with our family's sole cattle, offering it for the photographer's camera.

It was valued at 70 Chinese silver dollars, a great sum at the time. With it, my dad began his career as a photographer.

Life with a camera

In the past 58 years, rain or shine, my father has walked a circuit of more than 300 villages and towns in western and southern Fujian Province, shooting photos for local people. He has travelled more than 220,000 kilometres, the equivalent of circling the equator five and a half times. He usually charges 1 yuan (12 US cents) for a four-inch photo, but for the disabled and the poor, he works for free.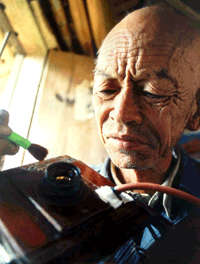 Li Tianbing cleans his old camera made in Britain in the 1930s.

He lives in a house with a single courtyard on a hill far from other villagers in the Makeng Township of Hua'an County. It is about 100 kilometres to the northwest of Zhangzhou.

He has no electricity, and makes do with whatever available to develop his own way of shooting and developing photos.

With his 1930s vintage camera, he has shot in natural light for half a century. He even prints copies from negatives with sunlight. When he enlarges photos, he aims his self-made enlarger toward a skylight, letting the light shine upon the photographic paper below.

For 58 years, he has been shooting phots using only natural light. He looks upon his routine and his camera as part of his life.

The mountainous areas he walks used to be haunted by bandits before the founding of the New China in 1949. Once he was encountered at home with his camera by a group of bandits. Coveting the camera, they surrounded the village and set fire to a house. All the villagers fled from their homes fearing for their lives. My father grabbed nothing but his camera and jumped out of a window to escape. The village was burned to the ground and all my father's photos were gone with the fire.

Yet he and his old camera survived.

He spent four days trudging across the mountains to buy film, paper and chemicals from Zhangzhou in the 1940s when he first took up the profession.

On the road, he trekked across 18 mountains, more than 100 brooks and a river, and made his way through three virgin forests haunted by wild animals such as wolves, tigers and snakes. He once was trailed by wolves in the forest. Helplessly, he climbed a big tree and had a narrow escape until a hunter passed by.

Another time he ran into mountain torrents on his way back home from work - holding his camera high to keep it dry. A boulder in the water prevented him from drifting down the river, helping him and his camera survive the flood.

During the "cultural revolution" (1966-76), my father was forced to put aside his camera because it was made in Britain, and "symbolized capitalism." He was also ill-treated because of his profession. Unable to stand the torture, he left home, tears in eyes, but never giving up his photo gear. He continued to serve his villagers' photographic needs secretly.

Professional successors

After the introduction of reforms and the opening policies in the late 1970s, my father resumed his work. Some people suggested that he should rake in money by running a photo studio in the city.

But my father shook his head, saying: "I was born into a farmer's family. The local people need my service. I want to provide the villagers with my service for their families."

To my father's satisfaction I, as his first son, have followed in his footsteps. Under his influence, I was fascinated with photography in my childhood. As a frequent winner in photo contests at home and abroad, I became a professional photographer, and joined Chinese Photographers' Association.

Li Hong, my 11-year-old son, also has shown interest in taking photos. He is learning photography from his grandfather with his own Seagull camera. The fellow villagers say: "Master Tianbing has successors."

On July 1, 2002, the 71st anniversary of the founding of Chinese Communist Party, my father, my son and I went to Ruijin in neighbouring Jiangxi Province, the starting place of the Long March (1935-36), for an event entitled "The Long March - A Walking Visual Display."

As part of the activity, a photo exhibition displayed my father's black-and-white pictures taken in natural light during the past half century and my works featuring the social changes since the country began its reform efforts.

The photos drew both local people and visitors from overseas.

Now in his silver years, my father still moves from one village to another in Fujian. He loves the land where he was born and his fellow villagers. He has devoted his life to photography, recording the passage of time with the old camera.

Old as it is, the British-made camera works extremely well. Surprisingly, no one knows the exact manufacturer of the camera.