Peruvian Prime Minister may step down for personal life
( 2003-12-13 14:27) (Agencies)
Peru's President Alejandro Toledo asked for the resignation of its first-ever female prime minister and her 15-minister Cabinet in the wake of a rumor-driven scandal.
Peru's Prime Minister Beatriz Merino, who was appointed six months ago, has widely been expected to step down after complaining about a campaign of lies about her personal life.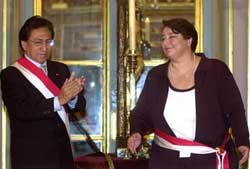 Peruvian President Alejandro Toledo applauds after swearing in Prime Minister Beatriz Merino at the Government Palace in Lima, in this June 28, 2003 file photo. Merino, the first woman to hold the post in this Andean nation, is widely expected to step down after complaining about a campaign of lies about her personal life. [AP]

Newspapers and television reported Friday that Merino, a 56-year-old Harvard-trained lawyer, had lost Toledo's confidence after she went public with the allegations.

Toledo's announcement, delivered in a communique Friday night, also demanded that presidential advisers resign. Replacements would be sworn-in Monday following the Merino's return from a U.S. trip, it added.

Cabinet ministers traditionally offer their resignations at year's end, but Toledo's announcement was seen as an attempt to put his foot down, as the communique stated, "in the face of recent political events."

Merino said last week that a political rival told the head of Peru's Catholic Church that she is a lesbian, a taboo in Lima's conservative society. Her complaint came after a television news show host reported she had found government jobs for several friends ! a common practice by public officials in Peru.

Merino avoided reporters this week during a trip to Washington and Harvard University. Her spokeswoman, Melita Guerrero, told The Associated Press only that the prime minister was due back in Lima late Sunday. She refused to comment on the news reports.

Earlier this week, Toledo called for political calm in remarks that could have been directed either at Merino, a political independent, or members of his party.

"We must be mature and not turn politics into infantile acts," Toledo said Wednesday during a graduation address at Peru's air force academy. "Sometimes keeping your mouth shut is worth more than a thousand words."

Headlines on Friday predicted the end was near for the prime minister.

"Dr. Merino is out of the government. As soon as she gets back, she will be replaced," newspaper editor Augusto Alvarez said in a Radioprogramas interview. Alvarez runs the respected daily Peru21.

Her replacement was expected to be part of the usual year-end Cabinet shuffle, newspapers said. The prime minister serves as chief of the president's Cabinet.

According to a TV producer and a news program host, Merino told prominent journalists off-camera that the head of Peru's Catholic Church, Cardinal Juan Luis Cipriani, had warned her that a political rival was trying to convince him that a property deed of a house she owns and shares with a longtime female friend was proof of an immoral, lesbian lifestyle.

"She told me she has been the target of political attacks since she took over the Cabinet in June," television news producer Rosana Cueva told AP.

Cueva added that Merino, who is single, denied being a lesbian and even called an aunt ! who also lives in the shared house ! to ask her to tell the journalist that she is heterosexual.

TV journalists identified the politician who approached the church as Luis Solari, a congressman and former prime minister. They identified him only after Solari went on TV to angrily deny that he was involved and threaten to sue anyone who said he was.

But in a late development Friday, Cipriani said in a written statement that he "has not been visited by any politician with accusations related to these events."

Solari's press secretary told the AP the congressman would not comment. "We are waiting to hear what the prime minister says when she returns," Jose Antonio Varela said.

Seen by many as a welcome bulwark of decisive leadership in Toledo's fragile presidency, Merino has been the most popular member of his government since coming on board in June. Recent polls show her with approval ratings of 64 percent.

Merino took on a bigger role in running government than her predecessors and is generally credited with helping Toledo's popularity rise from 11 percent to 18 percent.

The news magazine Caretas speculated Thursday that Merino's high approval ratings may have sparked envy among Solari, governing party members upset with her status as a political independent ! and even Toledo.

Merino addressed this during her visit to Harvard, El Comercio reported Friday. When a professor asked if she was considering a run for the presidency, Merino laughed and said: "I think that's why I'm having problems, because many people think that I want to run."

The scandal dominated news coverage this week.

Critics slammed Toledo for allowing members of his party to take part in the mudslinging, calling it another example of weak leadership.

El Comercio and opposition politicians urged Toledo to police his party ! a loose coalition that helped put him in office in July 2001 but is expected to disintegrate upon his exit in 2006.

"The time has come for Toledo to get rid of the bad and dishonest people surrounding him who only want power without concern for the country's development," opposition Congressman Hildebrando Tapia said.

Speaking at a conference in Washington about the role of women in strengthening democracy, Merino said one of her guiding principles has been "to treat your rivals with respect."

"Never get involved in personal attacks," she said.