China, Canada ink seven agreements
( 2003-12-12 08:36) (China Daily)
China inked seven agreements with Canada early Thursday to enhance political, economic and cultural collaboration in areas including agriculture, transportation, animal and plant inspection and quarantine.
The accord with the nation's 10th largest trading partner -- reached during Premier Wen Jiabao's visit Ottawa -- also called for collaboration between the two nation's judicial systems.
With his Canadian counterpart Jean Chretien, Wen jointly witnessed the signing of the agreements in Ottawa following a bilateral meeting. Chretien is set to leave his position on Friday.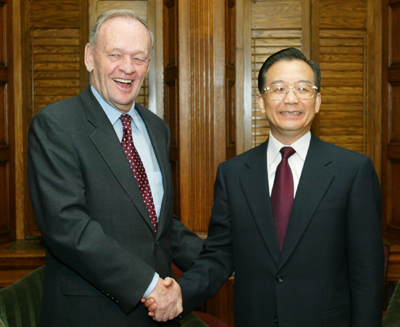 Canadian Prime Minister Jean Chretien (L) greets Chinese Premier Wen Jiabao in his office on Parliament Hill in Ottawa, December 11, 2003. Chretien will retire from politics on December 12. [Reuters]
Deals for the sale of Canadian potash and Canadian wheat were also finalized at the ceremony.
"We had a fruitful meeting during which we exchanged in-depth views and reached broad consensus on bilateral ties, regional and international issues of mutual interest,'' Wen said following the ceremony.
"All this indicates that Sino-Canadian trade and economic co-operation are making solid headway,'' he said.
Chretien echoed Wen. "Today's agreements will further enhance bilateral trade, international health and people-to-people ties and contribute to a better understanding of both countries judicial systems,'' he said.
Analysts said the meeting served as a cornerstone for his Chrestien's 10-year prime ministerial career. "The stronger trade ties and economic partnership not only serve the fundamental interests of the two countries, but contribute to peace and development in the Asia-Pacific region and the world at large.'' Wen noted.
During their talks, Wen said he made four suggestions, to which Chretien agreed.
First, Wen said the countries should establish a research facility at the vice-ministerial level on Sino-Canadian relations and co-ordinate stance on major international issues.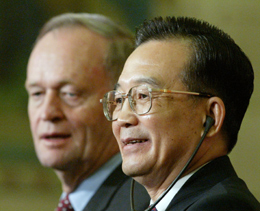 Premier Wen Jiabao and Canadian Prime Minister Jean Chretien stand during a signing ceremony on Parliament Hill in Ottawa, December 11, 2003. [Reuters]

He called for double current trade by 2010, with co-operation expected in energy, environmental protection, and telecommunications to tap vast Canadian resources and to explore Chinese markets and abundant labour.

Wen suggested collaboration while working with the UN on international affairs, noting he looked forward to working with new Canadian Prime Minister Paul Martin in cultivating a richer partnership.

Chretien reiterated Canada's support of China's one-China policy on the Taiwan issue, and Wen stressed China would make utmost efforts to realize the peaceful reunification of the motherland.

At present, China is Canada's third-largest trading partner and Canada is China's 10th biggest.

Chinese customs statistics indicate bilateral trade in the first nine months of this year reached US$7 billion and the annual trade volume will likely top US$10 billion at the end of 2003.

In 1997, Chinese and Canadian leaders agreed to build a 21st century framework for partnership for the long-term development of bilateral relations.

Wen also met Canadian Senate and House of Commons leaders on Thursday. He will meet with Martin, who will be sworn in on Friday.

Wen arrived in Canada on Thursday, greeted by a military honour guard, after a jam-packed four-day trip to the United States. Wen will make a speech at a luncheon by Canada-China Business Council today.