China signs UN act against corruption
( 2003-12-11 23:30) (China Daily)
China on Wednesday signed the UN Convention Against Corruption, saying the pact will contribute to global social and economic development.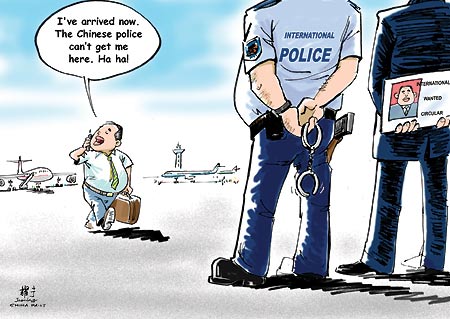 China Daily by Yaoning. [chinadaily.com.cn/file]
Chinese Vice-Minister of Foreign Affairs Zhang Yesui signed the document on behalf of the Chinese Government during a high-level political conference in the city of Merida, in the southeastern Mexican state of Yucatan.
In his speech, Zhang reaffirmed the Chinese Government's determination to fight corruption and its stand on strengthening international co-operation in the field.
"We are ready to work with other countries to create a healthy environment to promote economic and social development in China and other countries,'' he added.
China has been strengthening efforts in carrying out an anti-corruption campaign over the past years.
In recent years, the campaign has involved more minister-level senior officials who were sacked and punished for corruptive charges.
Just during this week, a trial on Wang Huaizhong, former vice-governor of Anhui Province, was opened in Jinan Municipal Intermediate People's Court of Shandong Province, who was charged with taking bribes and holding a large amount of property.
On Wednesday, Wang Xuebing, former president of China Construction Bank, was sentenced to 12 years in prison in the first instance by Beijing Second Intermediate People's Court for taking bribes worth 1.15 million yuan (US$140,000).
Earlier this year, Cheng Weigao, former chairman of the Standing Committee of the Hebei Provincial People's Congress, was expelled from the Party for taking advantage of his position in August.
And in July, former governor of Yunnan Province, Li Jiating, was sentenced to death by the Beijing Second Intermediate People's Court for taking bribes.
Zhang said China has always been active in formulating a legal instrument against corruption worldwide.
China's position during the negotiations has been "sincere, co-operative and realistic'' and China has contributed positively to the establishment of the treaty, said the vice-minister.
In order to implement the treaty in China, a code of conduct is being developed for the public services at every level of government to foster self-discipline in the administration, he said.
The agreement, which is expected to be signed by 125 nations over the next three years, will take effect after it is ratified by 30 signatory countries.
More than 120 countries attended the three-day meeting, 90 of which expressed their readiness to sign the document, the Mexican Foreign Ministry said.
The Transparency International said on Wednesday that the UN Convention Against Corruption opens the way for the recovery of funds that corrupt leaders from developing countries have transferred abroad.
President Peter Eigen of the organization said that under the convention, it will be possible to develop a more effective mutual legal assistance system and make it easier to prosecute bribery cases.
Eigen stressed that the signing of the convention is a "great step forward'' and that a control process will be required.
The agreement establishes for the first time a consensus-based framework to combat at an international level embezzlement, money laundering, bribery and illicit enrichment.