'Sino-US friendship benefits world'
( 2003-12-11 01:26) (China Daily By Sun Shangwu)
Visiting Premier Wen Jiabao said that differences between China and the United States should not get in the way of their friendship, which benefits world peace and development.

Premier Wen Jiabao speaks at Harvard University's Business School in Cambridge, Mass., Wednesday, Dec. 10, 2003. [AP Photo]

He offered four proposals to promote bilateral "constructive and co-operative relations'' when addressing nine US organizations on Tuesday night in Washington. (Full text of Wen's speech )

The suggestions include continuing high-level visits and strategic dialogue, facilitating mutually beneficial trade and economic partnerships and establishing a sound mechanism to address bilateral issues.

And intensifying co-ordination on major international and regional issues, as well as expanding people-to-people exchanges are also part of his proposals.

He made three conclusions after reviewing 50 years of China-US relations:

** China and the US both gain from peaceful co-existence, and lose from conflicts;

** Mutual interests serve as the bedrock of bilateral co-operation;

** China-US friendship is conducive to stability in the Asia-Pacific region, as well as global peace and development.

As terrorism is a common menace to all of humankind, China and US have established a mechanism of medium and long-term anti-terrorism exchanges and co-operation, according to Wen.

"Modern world history tells us that it is the economy and national interests rather than ideologies that underpin co-operation between big countries,'' said Wen.

The Chinese premier devoted much time to the question of Taiwan, which was described by him as "the sensitive core issue'' in bilateral ties.

"The separatist activities aimed at 'Taiwan independence' carried out by the Taiwan authorities are seriously undermining the political basis of China-US co-operation and our common interests, and putting peace and stability in the Asia-Pacific region in jeopardy,'' he warned.

He said that US history offers China valuable experiences and lessons: When the US was defending the principle that "the Union is perpetual,'' it was willing to pay a heavy price.

"It is my belief that the US people would not find it hard to understand our position of resolutely safeguarding the one-China principle and working to achieve national unity,'' he added.

During his meeting with US President George W. Bush on Tuesday morning, Bush reiterated the one-China policy and opposed the Taiwan authorities' practice of holding referendum, which might lead towards independence.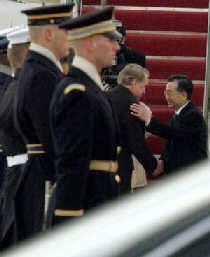 Premier Wen Jiabao (right) bids farewell to Chief of Protocol Ambassador Donald Ensenat as he departs Andrews Air Force Base, Md., Wednesday, Dec. 10, 2003, after a two-day visit to Washington with President Bush and other leaders. [AP Photo]

While in Washington, Wen also held separate meetings on Tuesday with officials and congressional leaders, including Vice-President Dick Cheney, Federal Reserve Chairman Alan Greenspan and the head of the US Senate.

Before wrapping up his four-day tour to the US, Premier Wen made a stop in Boston and delivered a speech in Harvard University, encouraging people to pay more attention to China. (full text of the speech )

The scholarly premier cited the ideas of many Chinese and foreign thinkers to illustrate China's philosophical perception, which described by Wen as "essentially populist and democratic.''

He gave a brief introduction to China's rapid development in recent years, which has played an important role in promoting the development of human rights.

"China owes all this progress to the policy of reform and opening-up and, in the final analysis, to the freedom-inspired creativity of the Chinese people,'' he said.

Wen said in his speech that the Chinese Government is committed to protecting the fundamental rights of all workers and the right to property, both public and private.

He said that China's reform and opening-up creates conditions for the advancement of human rights, and the latter invigorates the former.

If one separates the two and thinks that China only goes after economic growth and ignores the protection of human rights, such a view does not match reality, said Wen.

He then quoted former US President Franklin D. Roosevelt's two sayings "True individual freedom cannot exist without economic security and independence,'' and "Necessitous men are not free men'' to support his point of view.

In his speech, Wen also expressed his anxiety and unease about China's poor -- including 30 million farmers lacking food and clothing, 23 million city dwellers living on subsistence allowances and 60 million disabled people in need of social security aid.

Wen is respected as a man-of-the-people premier at home. He has shaken hands with AIDS patients, descended into coal mines to celebrate Spring Festival with workers and visited thousands of poor villages in China.

"For China to reach the level of the developed countries, it will still take the sustained hard work of several generations, a dozen generations or even dozens of generations,'' he added.

"A deeper mutual understanding is a two-way process. I hope American young people will turn their eyes to China. I also trust our young people will turn their eyes more to the US,'' said Wen.