Suicide bomb hits heart of Moscow, Chinese among injured
( 2003-12-09 22:47) (Agencies)
A bomb exploded outside an exclusive hotel across from Moscow's Red Square on Tuesday, killing at least six people, injuring at least 13 others and sparking fears of a new wave of terrorism in the heart of the Russian capital.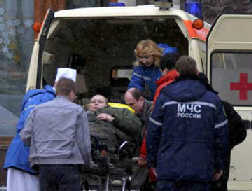 Emergency workers and paramdeics put an injured man into an ambulance outside the National Hotel in central Moscow, December 9, 2003. [AP Photo]

The explosion ¡ª which news agencies reported was caused by female suicide bomber ¡ª came shortly before Russian President Vladimir Putin addressed a meeting nearby at the Kremlin and two days after Russian parliamentary elections.

Lu Yuan, a 23-year-old Chinese citizen, was the only foreigner among the injured, the Interfax news agency reported.

The target of the blast was not immediately clear, and Moscow Mayor Yuri Luzhkov told the Interfax news agency that the hotel was likely not the intended target.

"Evidently, the bomb went off by accident," Luzhkov said. "The National Hotel was not the place where the suicide bombers had planned to stage the explosion."

Luzhkov reportedly said there was at least one and possibly two female bombers and that they asked a passer-by the way to the lower house of parliament, or State Duma. The ITAR-Tass news agency reported that the explosion had been caused by a female suicide bomber, and that an undetonated explosive had been found on the bomber's body.

However, Moscow police were cautious about calling the blast a terrorist act, saying initially that it could have been caused by a commercial dispute.

But as investigators continued to examine the site, they, too, thought that the explosion was a politically motivated, said Yevgeny Gildeyev, a police spokesman. The Federal Security Service was also treating the bombing as terrorism.

No group claimed responsibility, but past attacks have been blamed on rebels from the breakaway republic of Chechnya. Forty-four people were killed when a suicide bomber attacked a train in southern Russia last week.

The National Hotel sits on a corner diagonally across from a gate leading into Red Square and the Kremlin. The State Duma is located nearby, across the capital's most elegant shopping street.

In the Kremlin, Putin later addressed regional leaders to commemorate the 10th anniversary of the nation's constitution, which will be celebrated Friday.

"(The constitution) is a foundation for the development of a free market economy, democracy, and the development of the nation as a whole and the preservation of its territorial integrity. The actions of criminals, terrorists, which we have to confront even today, are aimed against all that," Putin said.

A preliminary investigation indicated that the blast occurred outside a car, Gildeyev said. Interfax reported that a headless female body was lying near the site of the blast, near a black briefcase that authorities thought might contain more explosives.

Both news agencies said that more undetonated explosives had been found near the hotel. A robot inspected the blast site and shortly afterward an explosion could be heard from across the street.

The robot then was seen maneuvering between two bodies. Gildeyev said that all undetonated explosives at the site had been destroyed by early afternoon.

Five people were killed, three were injured, and seven were given first aid on the spot and released, said Natalia Alisiyenko of the Moscow police. Gildeyev, another police spokesman, said nine people had been hospitalized. Luzhkov's spokesman, Sergei Tsoi, told reporters that 13 people had been hurt, with one in critical condition.

Television pictures showed a black Mercedes, its windows blown out and its door ajar, as white curtains billowed in the hotel's shattered windows. Beside the car was what appeared to be a body lying on the ground, obstructed by a Christmas tree.

Two witnesses told Russian state television that they had their backs to the blast and heard a huge bang shortly before 11 a.m. local time.

"We felt a kind of whoosh, heard a bang, and saw smoke," said one, who was not identified.

Police evacuated the Kiev railway station Tuesday afternoon after finding what they described as a suspicious looking object beneath a train that travels between Moscow and the Moldovan capital, Chisinau.

Russians have been jittery about terrorist acts since a series of explosions in Moscow and southern Russia blamed on Chechen rebels.

Altogether, close to 300 people have been killed in Russia in bombings and other attacks blamed on Chechens over the past year.

The deadly bombings of the past year ¡ª and a Chechen rebel hostage-taking raid on a Moscow theater in October 2002 ¡ª have exposed the inability of Russian authorities to protect against suicide attacks.

A suicide truck-bomb attack last December destroyed the headquarters of Chechnya's Moscow-backed government and killed 72 people, and another killed 60 at a government compound in the region in May. Later that month, a woman blew herself up at a religious ceremony, killing at least 18 people.

In June, a female suicide attacker detonated a bomb near a bus carrying soldiers and civilians to a military airfield in Mozdok, a major staging point for Russian troops in Chechnya, killing at least 16 people, and the 50 killed in a truck-bomb attack on a military hospital in Mozdok in August included soldiers wounded in Chechnya.

Russian forces have been bogged down in Chechnya since 1999, when they returned following rebel raids on a neighboring Russian region. Earlier, they fought an unsuccessful 1994-96 war against separatists that ended in de facto independence for the region.