Killer of 17 to be executed
( 2003-12-09 22:26) (China Daily)
A notorious "teenager killer'' in Central China's Henan Province was given the death penalty Tuesday for the murders of 17 teenaged boys.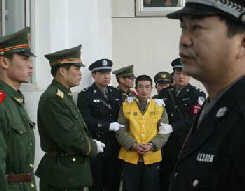 Huang Yong, the 29-year-old murderer of 17 teen-aged boys in Central China's Henan Province, is escorted to trial, December 9. 2003. He was later sentenced to death by the People's Court of Pingyu County. [newsphoto.com.cn]

Huang Yong, 29, murdered 17 school-aged boys and injured one after he lured them into his home over two years starting in September 2001, according to an indictment filed by the Zhumandian People's Prosecutors' Office in Henan Province.

Huang confessed to his crimes, and his lawyers lodged no appeals after his more than three-hour trial held in the People's Court of Pingyu County.

Most of the victims' family members were present at the proceedings. Many were enraged and couldn't help cursing Huang, which caused the trial to be suspended for about 10 minutes.

Huang lived alone in Dahuangzhuang Village in Pingyu County in southeastern Henan Province, which provided him chances to lure the boys and hide their bodies in his home.

According to Huang, he always targeted teenagers whom he found in local Internet bars, video game venues and video theatres.

He became close to his victims by promising them to improve studies and video game skills or helping them find jobs, Huang said.

Two years ago, Huang refit a household noodle-making machine into a killing tool which he called "intelligent wooden horse.'' It looks like a four-leg stool with a rectangle wooden board fixed on it.

He would tempt his targets lying on the killing machine and suddenly strangled them to death with a strap, he told the police. Afterwards, he striped off their clothes, cut the bodies into several parts and hid them in a pit in his home.

Huang was finally arrested after he attempted to kill Zhang Liang -- his would-be 18th victim -- but who narrowly escaped from by promising Huang to become his adopted son and to support him for the rest of his life, according to the Xinhua News Agency.

The 16-year-old Zhang said he feared recalling the terror he had experienced, while adding Huang didn't look like a cruel man.

In an interview with CCTV, Huang said he had wished to be a professional killer from early childhood.

It was violent and bloody video shows and games that pushed him to act as a warrior in real life, he said. He said his purpose for the murders was for nothing but the thrill of killing.

While urging the court to punish the murderer, family members of the victims complained that local government should be responsible for the numbers of serial killings, Zhu Jingling, a lawyer representing the victims' family, said.

The families have decided to file an administrative lawsuit after the trial, Zhu said.

She said they had complained to the local government but it had failed to carry out a proper investigation after they continued to report missing children.

Already, five police officers in the county, including the county's police chief, have been removed from their posts because of their negligence, Xinhua reported.

Since the killings were brought to the attention of the media, local Internet bar owners have suspended their business for fear of getting involved in the case, according to Beijing Youth Daily.