Bob Dylan revisited
( 2003-12-09 16:06) (msn.com)
With the release of 15 Dylan SACDs, the Bard's music finally deserves as much attention as his lyrics.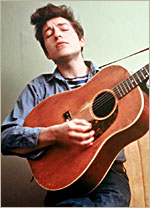 Bob Dylan

It's rare to read any analysis of Bob Dylan's work that doesn't drone on about his lyrics. The groundbreaking artist has always backed up his wordplay with tremendous guitar and harmonica playing -- not to mention incredible bands -- but outside of going electric at Newport or the guitar assaults of the Rolling Thunder shows in the mid-'70s, one rarely hears much about Dylan's playing. However, with the release of 15 Dylan albums on Hybrid Super Audio CD (SACD), "Dylanologists" may need to start singing a different tune.

The real revelation found on these re-mastered and remixed albums -- which you can buy individually or as a beautiful box set -- is on the music. More than anything, these new SACDs highlight Dylan's sound and put the music on par with the lyrics; Dylan the musician, as opposed to Dylan the poet, now steps center stage into the spotlight.

Simply put, no matter how many times you've listened to masterpieces like "Blonde on Blonde" or "Blood on the Tracks," the detail, depth and clarity of Dylan's vocals and musical accompaniment has never come through like this. If you're a Dylan fanatic, it's like hearing these records for the first time... and the results are jaw dropping.

The key word when talking about this set is separation. Because SACD supports multi-channel audio (full sound quality of all channels), certain instruments in certain songs feel like they've been isolated to the point where you can focus on, say, a guitar solo or a piano riff all the way through a particular song. That said, it's not distracting enough to ruin the overall feel of a song. It simply un-muddles the sound and allows you to hear the album as if you were sitting right in the recording studio with the musicians (this is especially true of the six albums that were remixed in 5.1 surround sound: "Another Side of Bob Dylan," "Bringing it All Back Home," "Blonde on Blonde," "Blood on the Tracks," "Slow Train Coming" and "Love and Theft")

Among the highlights you'll hear on these releases:
"Blonde on Blonde"
If you only buy one title from the set, make it this one. This is arguably Dylan's most adventurous album musically, and his complex compositions (played by the seat of their pants by top-notch Nashville session musicians) have never sounded this detailed and clear. For example, you can hear certain musicians hanging on for dear life as they try to follow Dylan to the end of song, like the guitars on "Obviously 5 Believers" or "Stuck Inside of Mobile with the Memphis Blues Again." The musical separation allows instruments to emerge where you never had heard them before (check out the bizarre guitar solo isolated throughout the dreamy "Visions of Joanna" or the buzzing organ in "Temporary Like Achilles"). Outside of a rather muddled, bass-heavy "4th Time Around," this remixed masterpiece is perfect and a great introduction to why people are gushing about SACDs.

"A Hard Rain's A-Gonna Fall"
Dylan's nightmarish portrait of nuclear war -- from the album "The Freewheelin' Bob Dylan" -- has never sounded so spare and desolate. Like all of the solo acoustic tunes on "Freewheelin'" and "Another Side of Bob Dylan," "Hard Rain" places Dylan's voice front and center and separates his guitar and harmonica into different channels. Not only do you gain appreciation for how complicated it is for Dylan to sing, play guitar and harmonica all at once, the space added to the mix renders the tune even more haunting. Also, Dylan's voice has never sounded this crisp. You can feel the anger in your bones

"Oh Mercy"
As produced by Daniel Lanois, this is Dylan's most atmospheric work, and the SACD version just reaffirms it as one of the artist's most underrated, intimate recordings. The music is as warm and hazy as a sweaty summer day in New Orleans, and one listen to this remixed version will put you in a half-dream state. Check out the swamp sounds and loopy bass in "Man in the Long Black Coat" or the lonely, shimmering guitar ringing throughout "Most of the Time." With the new release, the album's sonic universe expands.

"Desolation Row"
Dylan's apocalyptic epic (the finale on "Highway 61 Revisited"), brimming with lonely losers, hypocrites and malcontents, has never sounded richer. Sure, the vocals achieve new clarity and passion (you can hear him sucking air at times), but it's the backup electric guitar that's the real discovery. Riffs pop out after every line Dylan sings and add a whole new layer of emotion to the song. Sometimes a riff comments on a joke or adds to the playfulness; other times, it's sad and mournful; and other times, it's just trippy and weird as the people's behavior in the song. It's present in the original, but buried. Here, the guitar becomes its own character.

"You're A Big Girl Now" and "Shelter From the Storm"
These two examples from Dylan's divorce masterpiece, "Blood on the Tracks," showcase how much more private the SACD process makes the music. The Spanish guitar playing on "You're a Big Girl Now" feels like a warm hug, while Dylan's painful moans to his ex-lover ("I'm back in the rain/Ooooohh and you are on dry land") induce goose bumps and tears simultaneously. As for the extreme detail of these discs, check out "Shelter From the Storm." What's that clicking throughout the song, you ask? Dylan's coat buttons hitting his guitar. Amazing.

The lead guitar work on the electric half of "Bringing It All Back Home"
Want to find out where neo-psychedelic bands like Galaxy 500 or Spacemen 3 copped their guitars sounds? Focus in on the lead guitar coming from the left speaker in tunes like "Love Minus Zero/No Limit," "Maggie's Farm," and the garage-rock pileup "Outlaw Blues" on Dylan's first electric record. Again, the musical separation here allows you follow some of the most twisted, acid-tinged guitar playing of all time. And you never really knew it was there ... there are a lot of moments like that in this box set.