Toyota pulls ads after complaints
( 2003-12-09 15:58) (Xinhua)
Japan's Toyota Motor pulled two magazine ads in China after local readers complained they insulted the country, the company said, in the latest gaffe by a Japanese firm on the mainland.
Toyota, which apologized publicly for any offense it may have caused, ran two advertisements for its Land Cruiser and Prado SUV (sport utility vehicle) models.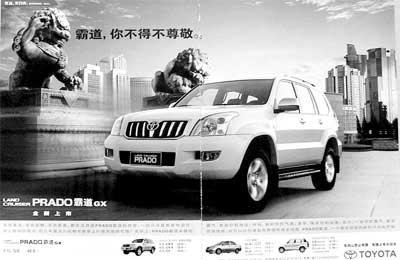 Ad for Prado SUV
One featured a Land Cruiser towing a truck that bore a striking resemblance to a Chinese military vehicle. A second showed a stone lion -- a traditional Chinese authority symbol -- saluting a Prado, which translates into "heavy-handed".
State newspapers said readers had protested the pictures implied Japanese vehicles were more hardy than Chinese military equipment, or that Japanese products were superior to Chinese.
"They generated an extreme response from some readers and we have apologized for any upset caused," Sun Tuoya, Toyota's China spokeswoman, said. "The adverts have already been pulled."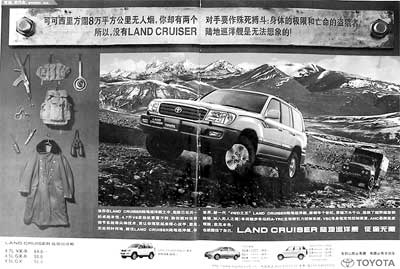 Ad for Land Cruiser
China believes Japan should do more to compensate for wartime atrocities.
A Sino-Japanese company, Futong Showa Optical Communications Co., was forced by regulators to suspend an initial public offering in September because the "Showa" in its name dredged up unpleasant memories of the reign of wartime emperor Hirohito.
Japanese auto companies such as Toyota, Nissan Motor and Honda Motor have poured billions of dollars into producing vehicles in China, the world's fastest growing major auto market.