In the hiring line
( 2003-12-09 10:00) (China Daily HK Edition)
Thanks to the introduction of economy-boosting measures, including CEPA and the relaxation of individual travel restrictions for mainland visitors, Hong Kong has witnessed economic recovery and improved market sentiment in recent months. Along with signs of an economic revival, there are expectations of an improved employment situation, while recent statistics suggest a steady recovery in local employment opportunities.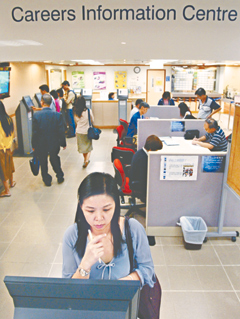 A Jobseeker looks for employment opportunities at a labour department office in Hong Kong. Hong Kong's unemployment rate has dropped to 8 per cent since its peak in May, with marked improvements every month. [Reuters]

In light of these developments, China Daily and Recruit magazine organized an informal breakfast forum gathering representatives from the government, business and academic sectors, along with recruiters in Hong Kong and the mainland, to exchange views on general employment prospects for the territory in 2004 and beyond.

During the discussion, participants expressed cautious optimism about the local employment situation for the coming year. They agreed that employment opportunities would be proportional to the talents of candidates and that jobseekers must be willing to learn new skills and upgrade their knowledge.

Representatives of different sectors stressed that young jobseekers must adjust their perspectives on the job market and avoid stereotyping jobs, such as the stigma they attach to manual labour and working in the mainland.

New attitudes needed

Forum participants expected a large number of service sector jobs in the local job market next year, saying candidates should embrace this irreversible trend as employment opportunities in the sector continue to increase.

They also advised local jobseekers to lower their expectations before entering the mainland job market, while maintaining that work experience there would be essential for future advancement as Hong Kong further integrates with the Pearl River Delta and the Chinese mainland.

Demand for labour has significantly increased in China since its accession to the World Trade Organization, and the Chinese workforce is commanding higher salary levels, said Raymond Tang, Russell Reynolds Associates's managing director and country manager for China.

Tang said he expected middle managers in China to have higher salary levels than their counterparts in Hong Kong within the next 10 years, as Hong Kongers were gradually losing their competitive advantages in the mainland job market.

As Hong Kong jobseekers' priority status in the mainland job market slowly erodes, local candidates are in need of a niche to sustain their employment opportunities. Chinese industrialist Benny Wu said that in specific job sectors in the mainland, including finance and intellectual property, there was still a high demand for Hong Kong talent.

Wu said local jobseekers might have difficulties finding employment in the mainland due to their expectations of high wages and the language barrier, not to mention the fact that Hong Kongers are often hesitant to relocate to the mainland for work. He urged the local workforce to gain more experience in the mainland job market and expose themselves to the work climate there early.

He praised local employees for their loyalty and diligence, and the added advantage of a higher proficiency in English.

"Hong Kong employees can work 10-hour days, or even 12 hours; but mainland workers only work up to eight hours a day, five days per week," Wu told the forum.

Peter Lau, chief executive officer of Giordano.

The local employment situation has changed due to economic restructuring and structural readjustments. Chief Executive Officer of Giordano Peter Lau stressed that Hong Kong would remain a service-based economy and that jobseekers must adapt to changes in the job market by honing their skills, while the government should provide platforms to promote general acceptance of new types of jobs.

"At a Giordano meeting yesterday, we realized the company still needed 70 people to fill new sales jobs, but we couldn't hire any new staff, "said Lau. "We posted the new positions at the Labour Department to no avail, and the company has never successfully recruited a single new staff member through the department due to a general lack of interest."

He emphasized that the administration must educate younger jobseekers to appreciate potential employment opportunities in the retail and service sectors.

Hong Kong's younger generation is still longing for a return to the bygone era of easy money before the financial crisis, when fresh graduates would earn five-digit incomes,?he said.

Lau said the problem of structural unemployment would continue in the territory, and he maintains a cautious attitude towards employment prospects in the coming year.

He said unemployment could drop to 5 per cent if the government were to co-ordinate its efforts with the business sector.

A jobless dilemma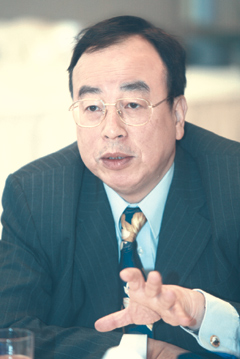 Tsang Kin-wo, Assistant Commissioner for Employment Services, Labour Department.

Representing the Labour Department, Assistant Commissioner for Employment Services Tsang Kin-wo said unemployment in the territory had dropped to 8 per cent since its peak in May, with marked improvements every month.

Tsang said the local job market has an oversupply of sales and marketing jobs, which have limited appeal to jobseekers, contributing to a disproportional effect in the market.

Wage levels are relatively low for this type of work, with long hours and a performance-based salary. There is frequently an excess of sales and insurance jobs in the local market, yet candidates rarely look for these jobs as they do not offer a stable source of income,?he said.

Tsang pointed out that a majority of middle-aged jobseekers have relatively low education levels and skills, qualifying them for a limited range of low-end job opportunities. As Hong Kong moves towards a knowledge-based economy, this group will face significant unemployment pressures.

A large number of jobseekers with limited education have reached middle-age; these candidates contribute to some of the worst structural unemployment problems in the territory,?he told the forum.

According to Tsang, the administration has invested significant resources to generate more employment opportunities in the territory and improve the skills of the local workforce, while unemployment pressures amongst middle-aged and teenaged jobseekers were expected to continue into 2004. The government will continue to provide training and placement programmes for these two groups.

Unemployment within the 15-to-19 age bracket has dropped from 38 to 32 per cent, amounting to about 20,000 jobless teenagers, and future employment prospects for this group will correspond to the speed of the territory's economic recovery, he added.

Employers?Federation of Hong Kong Executive Director Jackie Ma said a number of industries were gradually regaining confidence in the territory, including the logistics, finance and insurance sectors. Property developers and manufacturers are generally less optimistic, expecting business to fully recover only in a few years?time.

Ma remarked that local wages were still relatively high compared to a number of countries and that Hong Kong would lose its competitiveness if salary levels remained at current levels.

Transparency between employers and employees is essential to a satisfying work relationship, and the workforce should have an understanding of their own contributions, she said.

Educators's mission

Addressing a more academic perspective on employment, Professor Cheung Yan-leung of the Business Faculty at City University projected a continued drop in unemployment in the territory.


Representatives from the government, business and academic sectors, along with recruiters in Hong Kong and the mainland, joined the breakfast forum organized by China Daily and Recruit magazine.

Structural unemployment will remain at about 5 per cent, comprising a group of individuals who experience the greatest difficulties in finding work, Cheung said.

He urged the government to allocate more resources in training programmes for this group of jobseekers and limit welfare benefits to a fixed period of time.

Local educators should concentrate on improving students?presentation and communication skills, and encourage them to enhance their proficiency in a second language, he told the forum.

Participants at the forum concluded that local jobseekers must discard stereotypes and old perceptions of the job market as the number of jobs in the service sector continues to increase, and embrace new employment opportunities in China as Hong Kong achieves closer integration with the mainland.

A new mode of thinking is necessary for jobseekers to achieve success in finding work and eliminating the discrepancies between the types of jobs available in the market and the traditional expectations of the public, they concluded, noting that unemployment in the territory would worsen if candidates failed to adapt to the changing environment.

According to the Recruit Index for employment, job vacancies and appointment figures for the third quarter of this year witnessed an increase of more than 30 per cent over the previous quarter, with sales, marketing and promotion jobs in the retail sector emerging as the best performers. This indicates a revival in the local economy after the effects of SARS, complemented by the successful implementation of individual tourism schemes.

Detailed Chinese language coverage of the forum will be available in the next two issues of Recruit magazine to be circulated on December 9 and 16.