Premier Wen urges stronger US ties
( 2003-12-09 00:48) (China Daily)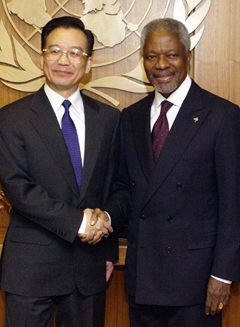 Premier Wen shakes hands UN Secretary General Kofi Annan. [Reuters]

Premier Wen Jiabao Monday expressed a strong desire for closer economic and trade relations between China and the United States.

While he also warned Taiwan authorities not to use democratic procedures, such as referenda, as a cover for separatism.

He gave the warning on two occasions -- a meeting with United Nations Secretary-General Kofi Annan and talking with groups of overseas Chinese.

Annan emphasized that the United Nations maintains a one-China policy, but that differences need to be settled without "any resort to violence.''

Wen stressed: "As long as there is still a glimmer of hope, the Chinese Government will not give up its efforts for a peaceful unification and a peaceful settlement.''

He emphasized that the use of force does not target the Taiwan people, but those who wish to separate Taiwan from the motherland.

"No interest is higher than that of maintaining national reunification,'' said Wen in a speech to overseas Chinese representatives.

Wen, who arrived in New York on Sunday on the first leg of the four-day visit to US, took the opportunity here to have wide contacts with leaders of business circles to highlight the desire for closer economic and trade partnerships.

He rang the opening bell at the New York Stock Exchange, held talks with some well-known US experts on such topics as bilateral trade relations and the value of the Chinese currency, delivered a key-note speech to business leaders Monday and will later visit the General Electric Company.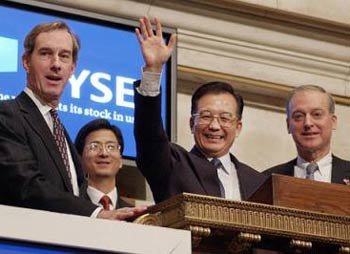 Premier Wen Jiabao (centre) waves to the trading floor as he is accompanied by New York Stock Exchange interim Chairman John Reed (right) and exchange co-president Robert Britz (left) before ringing the opening bell, Monday Dec. 8, 2003. [AP Photo]
The Chinese Premier also toured the site where the World Trade Centre was demolished in the September 11 attacks and laid a wreath there.
The two countries have stepped up their anti-terrorist co-operation and bilateral ties have improved steadily since.
Wen outlined China's economic policy towards the US in his speech entitled "Work Together to Open a New Chapter in China-US Trade and Economic Co-operation,'' which was made at a luncheon hosted by the American Bankers Association.
He said the thriving bilateral economic partnership has contributed greatly to the prosperity of the surrounding areas and to world economic growth.
The reason for such rapid growth of economic co-operation lies in the "high degree of complementarity of the two economies,'' according to Wen.
The scholarly Premier, who usually prefers to use poems to express his feelings, Monday quoted a famous Chinese poem to encourage business leaders and politicians to give proper attention to problems between the two countries.
Depicting how climbers of the towering Mount Tai feel, an ancient Chinese poem goes, "I must ascend the mountain's crest; it dwarfs all peaks under my feet.'' "When approaching problems in China-US trade, we also need to take a strategic perspective of vision and foresight,'' said Wen.
Problems such as the US trade deficit with China, the renminbi exchange rate, and Intellectual Property Rights (IPR) protection, concern many people in the US. But they are also problems that come along with expanded China-US trade, and they can be ironed out gradually since common understanding on them is entirely obtainable, Wen said.
"They should not, and will not, stand in the way of the larger interests of China-US trade. As whirlpools are sometimes found in a surging river, the flows of history can also be interrupted by some occasional setbacks,'' Wen added.
Nation opposes deficit increase
He said China does not want an increase in the US trade deficit with China, but reducing Chinese exports to the US is not the answer, as doing so serves neither China nor the US in solving its unemployment problem. Instead, it will seriously harm the interests of millions of US consumers and US firms operating in China.
"A more realistic solution is for the US to expand its exports to China,'' said Wen.
He also said that China will substantially increase imports of farm products and machinery from the US, and place more purchasing orders for American commodities.
" At the same time, we hope the US will recognize China's market economy status, and lift its export restrictions on high-tech products,'' Wen added.
He predicted that by the year 2020, China's gross domestic products will reach US$4 trillion and in the next three years, China's volume of imports will surpass US$1 trillion, which will provide a huge number of business opportunities.
The Premier said he plans to make a proposal to President Bush to raise the level of the Joint Commission on Commerce and Trade, so as to better serve bilateral trade and economic co-operation.
The two leaders are expected to hold talks in the White House on Tuesday local time.
Wen said China's development relies mainly on domestic demand and does not seek long-standing, excessive trade surplus.
He then quoted a famous US saying to encourage business leaders to promote bilateral economic and trade ties: "The golden age is before us, not behind us.''
US export increase key to cutting deficit
Senior Chinese economic and trade officials said yesterday the United States should increase exports of electro-machinery products to China in order to better balance the bilateral trade situation.
Ma Kai, minister of the National Development and Reform Commission, and Ma Xiuhong, vice-minister of commerce, told the press that China has become one of the fastest-growing export markets for the US.
However, the structure of US exports to China is not satisfactory: exports of textile materials and products to China increased by a surprising 138 per cent in the first nine months of this year, followed by farm produce at 97 per cent, according to Ma Xiuhong. While the export of electro-machinery products to China by the US increased only by 10 per cent, she said.
And in the first 10 months of this year, China's overall imports of electro-machinery products from the international market increased by 46 per cent, accounting for 60 per cent of the country's total imports, said Ma Xiuhong.
"So, we must find the right point to solve the trade deficit problem in China-US trade relations," she said.
The two ministers are members of the official delegation led by Premier Wen Jiabao.
Ma Xiuhong said China's exports to US are not the major reason for job losses of US workers, because most Chinese products sold to US are not manufactured in the US any more.
"I agree with views of many economists that the main factor influencing employment (in the US) is not imports, but its exports," said Ma Xiuhong.
China has become one of the fastest growing export markets for the US.
Last year, the overall exports of the US decreased by nearly 5 per cent, but its exports to China increased by 15 per cent. And in the first nine months of this year, overall US exports increased by 2 per cent, while its exports to China went up by 18.5 per cent.
"The facts show China has become a major factor pushing US exports," she added.
Ma Kai said at the press conference that the overall situation of China's international trade is balanced, its trade surplus decreased remarkably.