Gas explosion kills 20 in Hebei
( 2003-12-08 22:52) (China Daily)
A total of 20 miners have been confirmed dead in the gas explosion in a coal mine in North China's Hebei Province on Sunday.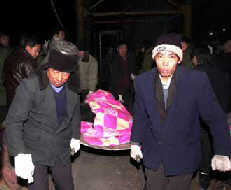 Members of an emergency squad help to carry out a miner who was wounded in a gas explosion at the Longtai Coal Mine in Yuxian County, in North China's Hebei Province December 7, 2003. [Xinhua]

The blast occurred at 11:03 am Sunday at the Longtai Coal Mine in Yuxian County, when 29 miners were working about 380 metres underground.

Nine miners were pulled out alive immediately after the explosion occurred, according to Gao Zhanjun, deputy director of Publicity Department of the Yuxian Party Committee.

"Eight of them had light injuries while one was seriously injured and is undergoing treatment in a local hospital,'' Gao told China Daily yesterday.

The bodies of the remaining 20 were found over the following two days, according to the official.

Among the dead, one was deputy manager of the mine and two were gas technicians, Gao said.

According to Gao, most of the miners were from local areas, while the rest were from Henan, Shanxi and Sichuan provinces and the Inner Mongolia Autonomous Region.

"The cause of the gas blast is still under investigation,'' Gao said.

After the explosion occurred, officials with the provincial government went to the site to monitor rescue work and investigate the cause of the blast, the official said.

Xinhua News Agency reported that all mines in the county have been closed for safety checks.

The Longtai Coal Mine is not State-owned and has an annual capacity of 50,000 tons.