Beijing auctions land-use rights
( 2003-12-08 22:07) (Xinhua)
The land-use rights to a planned housing project were auctioned off in Beijing Monday, the first ever auction of its kind in the Chinese capital.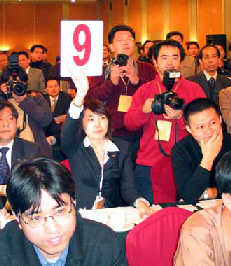 A woman representing Tianjin Shunchi Real Estate Development Co Ltd raises her hand to bid for a 300,000 square metre plot of land in Beijing, December 8, 2003. The company won the bid and paid out 905 million yuan (US$109 million) at the first large-scale land auction in the Chinese capital. [newsphoto.com.cn]

Bidding on the land-use rights for the project covering some 444,300 square meters in Daxing District began at a price of 430 million yuan (US$52.4 million). Dozens of companies and individuals attended the bidding.

Shunchi Real Estate (Beijing) Co. finally won the bidding with a price of 905 million yuan (US$110.4 million).

The company was confident about the future of developing this land, said the company's representative.

Shen Baochang, secretary of the district committee of the CPC, said the result was satisfactory.

Public bidding for the usage rights of state-owned land will help to avoid illegal operation of land investment and provide an open and fair environment for investors, said the bidders.

In the past, the acquisition of land-use rights was approved by government departments. Beijing has stopped the official approval and put the land purchase and selling on the open market in July 2002, providing access to land-use rights by auction and other public means.

The successful bidding would help to boost the land market next year, said the organizer, the Beijing Municipal Land Regulation and Reserve Center.