US says it regrets killing 9 Afghan children
( 2003-12-08 09:05) (Agencies)
The U.S. military voiced regret on Sunday for killing nine children in Afghanistan during a weekend air strike it said was meant to target a guerrilla commander.
The children were playing on Saturday in the walled compound of a house at Makur, 50 miles southwest of the town of Ghazni, when the U.S. A-10 aircraft attacked with gunfire.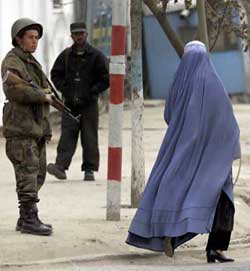 An Afghan woman clad in a burqa walks past a soldier in Kabul on December 7, 2003. [Reuters]

A statement from U.S. military spokesman Lieutenant-Colonel Bryan Hilferty regretted the loss of innocent life and said the "tragic incident" was being investigated.

The military said their bodies were found by troops of the U.S.-led force near that of a "known terrorist."

The U.S. ambassador identified the man as Mullah Wazir, a local figure who bragged of attacks on aid workers, but Afghan officials disputed the assertion Mullah Wazir was killed.

"It has not been ascertained if Mullah Wazir was killed or not, but the house was his," said Haji Assadullah, governor of Ghazni province.

Officials also said two Indians were abducted by suspected Taliban fighters in a southern province on Saturday, while two Turkish laborers detained by an Afghan chieftain over a land dispute were freed on Sunday, Turkish officials said.

Initially authorities believed the Turks, taking part in a well-digging project, had been snatched by Taliban guerrillas or their allies when they disappeared on Friday near the village of Khake Jabar, about 16 miles east of Kabul.

The United Nations said it was "profoundly distressed" by the children's deaths, which it said could have a negative impact among Afghans in the troubled south.

It called for a swift investigation and for the results to be made public.

"This incident, which follows similar incidents, adds to a sense of insecurity and fear in the country," U.N. Special Representative Lakhdar Brahimi said in a statement.

U.S.-led forces have been pursuing remnants of the Taliban overthrown in late 2001 along with Islamic militant allies including members of Osama bin Laden's al Qaeda network, blamed by Washington for the September 11 attacks among others.

MULLAH WAZIR

The U.S. ambassador, Zalmay Khalilzad, said Mullah Wazir was "a known financier, organizer and facilitator of terrorist activity" involved in attacks on Afghans working on the Kabul-Kandahar highway and aid workers.

Hours after the strike, suspected Taliban guerrillas kidnapped two Indians working on a U.S.-funded road in neighboring Zabul province.

Interior Minister Ali Ahmad Jalali said Taliban commander Mullah Roazi, responsible for kidnapping a Turkish road engineer in late October, had been in a village close to where the Indians were abducted, but he did not know if he was to blame.

The kidnapping of the Indians was yet another blow to the single largest reconstruction scheme in Afghanistan, a road project which has been hit by a wave of deadly attacks.

The deaths of the children will likely add to the problems Washington has faced winning hearts and minds in the troubled south, where militants are most active, ahead of elections due next year.

In November, six civilians were killed in an air strike in the southern province of Paktika, and nearly three weeks before that eight members of the same family, including children, died in a similar attack in the province of Nuristan.

In July last year the Afghan government said 48 people had been killed and 117 hurt in Uruzgan province when a U.S. AC-130 gunship attacked a wedding party. The U.S. military said 34 died and 50 were hurt -- mostly women and children -- but said the aircraft had come under fire.

Also on Saturday, a bomb blast in the city of Kandahar wounded at least 18 people.