Nancy opposes Reagan on coins
( 2003-12-08 09:05) (Agencies)
Former U.S. first lady Nancy Reagan has come out against a Republican bid to mint an image of her husband Ronald Reagan¡¯s head on U.S. coins.


The Reagans

Nancy Reagan urged a lawmaker from former president Reagan¡¯s Republican party to abandon his proposal to put his likeness on the 10 cent, or dime, coin to replace that of Democratic president Franklin Delano Roosevelt.

¡°While I can understand the intentions of those seeking to place my husband¡¯s face on the dime, I do not support this proposal and I am certain Ronnie would not.

¡°When our country chooses to honor a great president such as Franklin Roosevelt by placing his likeness on our currency, it would be wrong to remove him and replace him with another.

¡°It is my hope that the proposed legislation will be withdrawn,¡± she said of the bill proposed by Representative Mark Souder to change U.S. currency to honor the 40th president of the United States.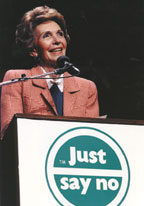 Nancy Reagan

Conservative Republicans who are angry over an unflattering television movie about the Reagans that was to have been broadcast last month wanted to immortalize the ex-leader who is now ravaged by Alzheimer¡¯s disease.

The film, that was pulled from the CBS network following an outcry by conservative Reagan¡¯s supporters, depicts a doddering Reagan dominated by his wife.

¡°It¡¯s what precipitated me introducing the bill at that time and why it was a lot easier to get a lot of support,¡± Souder told Fox News.

The row erupted just as an exclusive report in Saturday¡¯s edition of People magazine quoted Reagan¡¯s stepdaughter Patti Davis as saying that the 92-year-old president could no longer walk or talk.

The magazine said Reagan, who announced he was suffering from the debilitating neuron disease in 1994, could also no longer feed himself and does not recognize Nancy or his family.

Reagan spends his days confined to a hospital bed in a small room in his Los Angeles mansion with Nancy Reagan almost constantly at his bedside, it said.

Breaking her silence, Davis said she was often asked whether her father recognized her, as the former U.S. president¡¯s entourage keeps a tight lid on details of his illness.

¡°It makes me realize that my mother and I have been so protective of his condition since he became ill ¡ª almost a decade now ¡ª that it has allowed people to imagine he is still talking, still walking, still able to stumble into a moment of clarity,¡± she wrote in the magazine.

¡°But it would be a disservice to every family who has an Alzheimer¡¯s victim in their embrace to say any of that is true, and I don¡¯t believe my father would want us to lie.¡±

Reagan¡¯s office in Los Angeles declined to comment on the report, but said that the former president was ¡°the same¡± as ever.