Palestinians fail to agree on truce offer
( 2003-12-08 09:00) (Agencies)
Palestinians failed to agree on a truce offer to Israel on Sunday after three days of talks, setting back the Palestinian prime minister's hopes for a halt in violence to jump start the stalled U.S.-backed "road map" peace plan.
Hamas and Islamic Jihad, which have carried out most suicide attacks against Israel, resisted intense pressure from Prime Minister Ahmed Qureia and the top Egyptian mediator and refused a full cease-fire.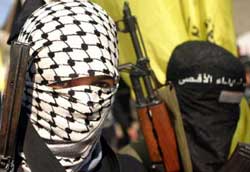 Masked Palestinian militants from the Al Aqsa Martyrs Brigade, a group linked to the Fatah movement, carry their weapons during a demonstration against the Geneva Accord in the Rafah refugee camp, southern Gaza Strip, Sunday Dec. 7, 2003. [AP]

The two groups would agree only to a limited truce, ending attacks on civilians in Israel but not on Jewish settlers or Israeli soldiers in the West Bank and Gaza Strip.

Israel said it would accept only a comprehensive halt. "There's no half-way cease-fire," said Raanan Gissin, a spokesman for Prime Minister Ariel Sharon. He said Israel is willing to stop shooting if there was a total Palestinian truce.

An official from Islamic Jihad and other Palestinian delegates said a further meeting was planned but no date for it was set.

Egypt had called together the Palestinian factions ¡ª more than a dozen, ranging from Yasser Arafat's Fatah movement to the Islamic groups and smaller leftist movements ¡ª in hopes of producing a halt to all attacks. Egyptian Intelligence Chief Gen. Omar Suleiman wanted to present the truce to Washington next week in a broad proposal that could win U.S. backing and put pressure on Israel.

But Qureia, who joined the talks Sunday in the hopes of bridging the gap, left the Egyptian capital, and several delegates acknowledged the talks produced no concrete results.

"There are disagreements about the nature of a cease-fire," Maher Taher, a senior delegate for the Popular Front for the Liberation of Palestine, told The Associated Press. "The factions have different positions on the issue."

Even when Qureia and Suleiman lay on the pressure in a three-hour meeting Sunday, Hamas and Islamic Jihad refused to buckle in their rejection of the broad halt. The two groups have carried out most of the suicide bombings against Israel that have killed hundreds during more than three years of violence.

"Hamas is not ready to make a comprehensive cease-fire. This is final," senior Hamas official Mohammed Nazzal said after talks ended Sunday.

The militant factions also rejected giving Qureia authority to speak for them in any negotiations with Israel. "We are not ready to give them authorization to sign a new agreement," Nazzal said.

The two groups said a more limited halt to attacks on civilians in Israel also depended on Israel's stopping its military actions.

"Let Abu Ala (Qureia) talk with Sharon and ask him if he is ready to make a cease-fire. If Sharon is ready to make a cease-fire, we will study it," Nazzal said.

"It was difficult for us and other factions to accept a new truce without guarantees from the Israeli side, because the previous truce failed in the same way, because of no Israeli guarantees," said Nafez Azzam, an Islamic Jihad spokesman in Gaza.

The Cairo session "ended with the hope of holding another meeting but it hasn't been agreed on a date," Azzam said.

In June, the Palestinians declared a cease-fire on attacks within Israel that also was negotiated in Egypt. Israel was not formally part of that truce, and it collapsed after seven weeks, with Israel attacking Palestinians and Palestinians resuming suicide bombings.

In the end, delegates said the Cairo meetings would only produce a final statement, but no deal.

"The statement will have no mention of refraining from attacks on civilians, cease-fire or authorizing" Qureia to negotiate with the Israelis, said Samir Ghosheh, head of the Palestinian Struggle Front.

In exchange for the full truce, Egypt and Fatah were demanding that Israel stop building settlements, pull its troops out of Palestinian areas re-occupied during the uprising and halt construction of its so-called security barrier along the borders with Palestinian areas, which juts into Palestinian land.

Essentially, their plan would have met much of the criteria of the "road map."

Sharon said Israel is still interested in a cease-fire.

"The solution is that if there is total quiet and there won't be terror, Israel will make every effort to abstain from its activity against terrorists," he said. He made the comments before the Cairo talks ended, in reaction to reports the Palestinians were considering offering the limited cease-fire only.

No deadly suicide bombings have occurred in Israel for more than two months.

The Palestinian suicide attacks have targeted buses, cafes, restaurants, shopping malls and outdoor markets inside Israeli territory, drawing condemnation from the international community as well as from the Palestinian Authority.

Israel's army has retaliated harshly ¡ª using tanks, warplanes and helicopters on Palestinians ¡ª and reoccupied most of the Palestinian cities in the West Bank and Gaza. Since the uprising started in September 2000, 2,562 people have been killed on the Palestinian side and 898 on the Israeli side.