Miss Ireland crowned Miss World
( 2003-12-07 08:33) (Agencies)
Nineteen-year-old Miss Ireland, Rosanna Davison, daughter of singer Chris de Burgh, was crowned Miss World 2003 on Saturday in China's first international beauty pageant.
It was China's first time hosting an international beauty pageant. A $12 million tiara-shaped convention hall was built especially for the event, which organizers said would be watched by 2 billion people around the world.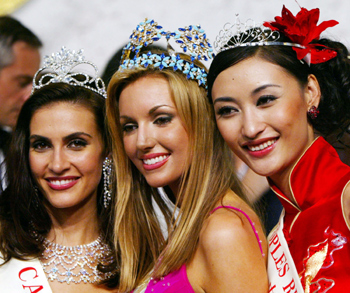 Miss Ireland Rosanna Davison (C) celebrates with first runner-up Miss Canada Nazanin Afshin-Jam (L) and second runner-up Miss China Qi Guan after winning the Miss World 2003 title. [Reuters]
Given 30 seconds to describe herself, Davison said she was a "warm, fun-loving person" who values honesty and integrity. She has taken a break from college to represent Ireland.
Her father, the singer Chris De Burgh best known for the hit "Lady in Red" said afterward: "I'm absolutely thrilled, I'm seriously proud of her."
Second place went to Miss Canada, Nazanin Afshin-Jam, while the host country's Miss China, Guan Qi, took third.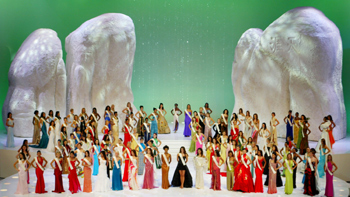 China hopes fame from Miss World will draw tourists to Sanya, a palm-dotted southern Chinese resort city on the island province of Hainan. The contest was the latest of China's efforts to open its doors to the world and become more of a global player.
"As reform and opening up go deeper, some beneficial cultural activities have been introduced to China," said Zhou Xiong, spokesman for China's Miss World Organizing Committee. "The Miss World competition is one of the examples."
Judges included film star Jackie Chan, "Sex and the City" author Candace Bushnell and Miss World President Julia Morley were also on the panel.
Tickets sold briskly, though the prices between $80 to $2,000 were hugely expensive in a country where the monthly urban salary averages $100.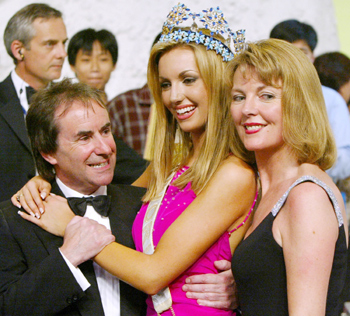 Miss Ireland Rosanna Davison (C) poses with her parents singer Chris de Burgh and wife Diane (R) after being crowned Miss World 2003 in Sanya. [Reiters]
There were no signs of disruptions, unlike last year when the pageant was hastily moved to London from Nigeria following deadly rioting between Muslims and Christians.
The fighting erupted after a Nigerian newspaper suggested the Muslim prophet Muhammad would have approved of the Miss World pageant and might have wanted to marry a contestant.