Toyota apologizes for 'humiliating' ads
( 2003-12-05 09:48) (China Daily HK Edition)
Japanese car maker Toyota yesterday apologized to Chinese consumers for running advertisements that many Chinese complained were aimed at humiliating them and domestic industry.
The advertisements, for two new types of cars - Prado GX and Land Cruiser - had drawn widespread indignation and criticism from China's netizens, who see them as a deliberate act by the Japanese car firm to insult the Chinese.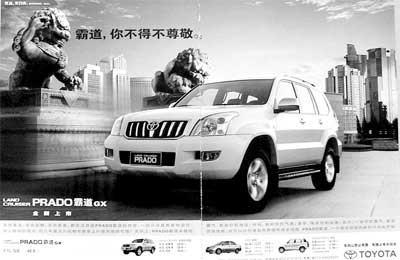 One advertisement depicts a traditional Chinese-style stone-carved lion saluting a moving Prado GX, whose Chinese translation means "despotic manner". "You have to pay respect to it," reads the slogan.
The other shows a Land Cruiser pulling a cumbersome Chinese-made truck on a bumpy road on a plateau.
The advertisements, published in the latest issue of Friends of Cars magazine in December, drew strong reaction from readers.
Many connect the stone-carved lion with those carved on the Marco Polo Bridge, where Japanese imperial troops launched a full-scale invasion of China in 1937. The bridge has become one of the symbols of humiliation China has suffered in modern history.
"The ads have definitely hurt the feelings of Chinese people. The Japanese never know how to respect the Chinese," reads a message on the popular netease.com website.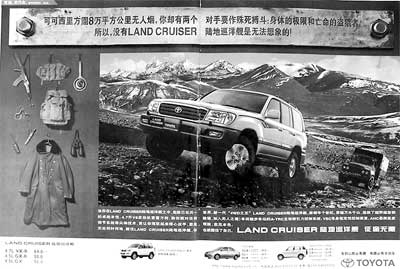 But Toyota said the ads were nothing but commercials, and do not imply "any other meanings".
"We want to express our sincere apology for the unpleasant feelings they have generated among Chinese readers," it said in a statement, adding that the ads would be stopped.
The magazine had earlier issued a public apology for running the ads, which carry pictures that "hurt the Chinese national feelings". "We have realized the severity of the incident," it said.
But some people think the critics might be too sensitive in interpreting the meaning of the ads. "Statues of lions can be found in many other countries. They are not regarded as the symbol of China," said another surfer.
There is deep-rooted resentment against anything related to Japan among many ordinary Chinese people because of the country's failure to fully atone for its war-time past.
Such resentment is easily fanned in the Internet age, and it has been strengthened by a string of Japanese-related incidents lately.
In August, one Chinese man died and 42 people became ill after chemicals leaked from weapons left over by Japan in the northeastern city of Qiqihar, prompting protests and demands for compensation by China. A sex orgy by more than 400 Japanese male tourists with hundreds of Chinese prostitutes in Zhuhai on September 16-18, the anniversary of an attack by Japanese forces in 1931, led to Beijing asking Tokyo to strengthen law-abiding education among Japanese citizens abroad.