Taylor wanted by Interpol, but Nigeria says no
( 2003-12-05 09:24) (Agencies)
Interpol issued an arrest notice on Thursday for former Liberian President Charles Taylor, but Nigeria -- where he lives in exile -- said it would not extradite him on war crimes charges.
"The president has said before that he will not be harassed about Taylor. The action that Nigeria will take will not lean toward handing over Taylor to Interpol," a spokeswoman for Nigerian President Olusegun Obasanjo said.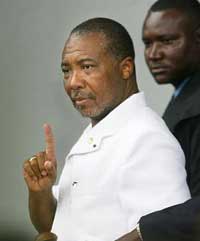 Former Liberian President Charles Taylor leaves after officially handing over the power of the presidency to his Vice President Moses Blah, at the Executive Mansion in the Liberian capital Monrovia in this Aug 11, 2003 file photo. [AP/File]

The international police organization issued the so-called "red notice" at the request of the U.N.-backed Special Court for Sierra Leone, which accuses Taylor of arming rebels during the country's long civil war in return for diamonds.

The notice is not an arrest warrant but can be used by police to make a provisional arrest pending extradition.

As with all such notices, a passport-style photograph of Taylor appeared on Interpol's Web site. It was accompanied by the words "Wanted by Interpol" and "Person may be dangerous."

Taylor, 55, has long been seen as the mastermind behind years of intertwined conflicts in West Africa.

The Sierra Leone court says he armed rebels who became notorious in the West African country for hacking off civilians' limbs, mass rape and the recruitment of child soldiers.

"The office of the prosecutor said the Interpol 'Red Notice' will serve as a reminder that Charles Taylor remains a fugitive from justice. The office said there was no amnesty from crimes against humanity," the court said in a statement.

"...he remains wanted by the international community to face the very serious charges against him," it added.

'NOT AN INTERPOL AFFAIR'

Since August Taylor has been living in Nigeria, which allowed him into the country as part of a plan agreed by African nations and approved by Washington to resolve conflict in Liberia.

Taylor, who was elected president in 1997, came under pressure to leave from rebels who advanced on the Liberian capital, Monrovia, and from diplomats who said his departure was vital to end years of violence.

Nigeria said on Thursday it would allow Taylor to stay.

"This is not an Interpol affair. The issue of Taylor is a political issue. President Obasanjo consulted very widely with the U.N. and other international agencies on the need to stop the bloodshed in Liberia before he took the decision on Taylor.

"We remain committed to keeping Taylor here on his own volition," the president's spokeswoman said.

The United States said it would work with Nigeria to see Taylor brought to justice.

"I think we and Nigeria share the same goal of seeing Charles Taylor held accountable. And we will work together to achieve that end," Deputy State Department spokesman Adam Ereli told a news briefing in Washington.

The Sierra Leone court served a warrant for the arrest of Taylor on the Ghanaian authorities on June 4, when he was attending a summit in Accra aimed at resolving the conflict in Liberia. The warrant was then transmitted to Interpol.

In a statement, Interpol, based in Lyon, France, said member countries complied with their own laws in deciding whether its notice represented a valid request for a provisional arrest.

Some countries allow the wanted person to be arrested pending extradition formalities, while others see it simply as a request for information on the individual.