China opens doors for Miss World
( 2003-12-05 09:01) (Agencies)
It looms above the palm trees, gleaming like a tiara ! the $12 million convention hall built for a Miss World pageant that Sanya hopes will put it on the global tourism map.
On Thursday, factory worker Wang Qiuyan gazed at the building in wonder, soaking it all in.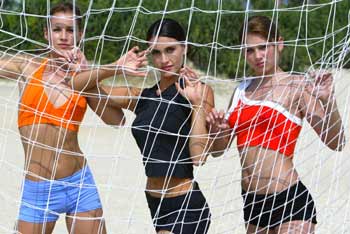 Lucie Vachova (L) of Czech Republic, Nazanin Afshin-Jam (C) of Canada and Patricia Filomena Chifor of Romania pose on a beach in Sanya located at China's tropical island of Hainan, December 2, 2003. [Reuters]
"It looks like an emperor's crown," said Wang, 20, who came from out of town for the pageant. She couldn't afford a ticket but wanted to be in Sanya anyway for the excitement of the pageant finals Saturday.
"For China to host this event is a great honor," said Wang, who lives 120 miles east of Sanya. "It shows that we are opening up and are willing to have more interaction with the rest of the world."
Sanya is China's southernmost city, a palm-shaded resort on Hainan Island ! dubbed "China's Hawaii" by boosters ! some 2,700 miles southwest of Beijing.
Though Hainan attracts millions of mostly Chinese visitors a year to its golf courses and sugar-white beaches, most here still make their living farming or fishing.
Sanya has invested millions to host Miss World, the first such international competition in China and the latest in the country's efforts to become a global player.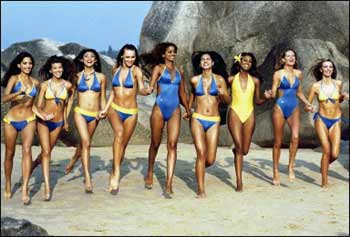 "It is a milestone in the development of Chinese culture," said Sanya Mayor Chen Ci at a press conference. "We did spend quite a lot of money, but the consequence will be huge. It will have a positive influence on the city's future."
Chen said he hoped Sanya would make $100 million from the exposure brought by the competition.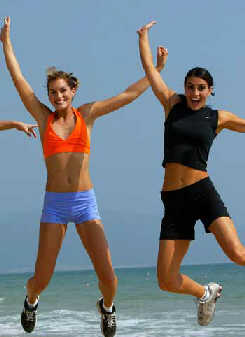 Lucie Vachova (L) of Czech Republic and Nazanin Afshin-Jam of Canada jump up in the air on a beach in Sanya located at China's tropical island of Hainan, December 2, 2003.[Reuters]

The city of 500,000 people has spent $31 million repaving and repairing roads, highways and bridges, the mayor said. He said that would help with other sporting and business events held on the island.

Government money and private donations paid for a $4.8 million license to hold Miss World. Private money also paid for the $12 million "Beauty Crown Cultural Center."

In return, Sanya will be showcased to a television audience estimated by the contest's London-based organizers at 2 billion.

"That is the best advert you can have in front of the greatest audience that the world's television has ever seen," said Paul Ridley, a spokesman for the Miss World competition.

On Thursday, banners welcoming Miss World contestants and promoting the city were found every few feet ! strung across busy roads, fluttering from lampposts, hanging in the fronts of restaurants, banks and office buildings.

"Bring on the beauties of the world, show the world the beauty of Sanya," read one banner. Said another: "Beautiful Sanya, beautiful life."

Newspapers have been filled with stories about the competition, which began late last month with preliminary events such as the naming of "Miss Sports" and "Miss Top Personality."

"I was really happy to see the girls when they passed by the other day," said Du Juan, 20, who works in a beauty salon. "I do want a little to be beautiful like them."

The ten finalists in the Miss World Beach Beauty contest await the judges decision on the beach at Sanya, on south China's Hainan Island Friday Nov. 28, 2003. [AP]
Tickets for the event have sold briskly, although the prices ! $80 to $1,000 ! are preposterously steep for a country where monthly salaries urban salary averages $100.
"The people buying have got to be foreigners," said painter Zhong Senghe, 40. "Who else can afford them?"
Under China's tight security, the competition seems unlikely to experience the upheaval that it did last year in Nigeria. That contest was hastily moved to London after more than 200 people were killed in rioting between Muslims and Christians.
The fighting erupted after a Nigerian newspaper suggested the Muslim prophet Muhammad would have approved of the Miss World pageant ! and might have wanted to marry a contestant.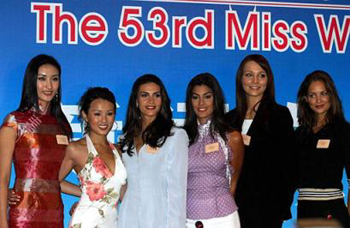 Miss World contestants, from left, China's Qi Guan, Hong Kong's Lok Ting Yeung, Canada's Nazanin Afshin-Jam, Venezuela's Valentina Patruno Macero, Poland's Karolina Gorazda and England's Jacqueline Turner, pose during a news conference in Sanya, Dec. 4, 2003. [AP]
In one Sanya neighborhood filled with Muslims of China's Hui minority, many said the pageant and the hubbub surrounding it didn't affect them. No one seemed too upset at the contest, though a few dismissed it as irrelevant.
"It doesn't interfere with our beliefs," said Hai Yelong, a 60-year-old Muslim pedicab driver. Besides, he said of the contestants, "Everyone likes to see them."