Tse, Wang may be splited again
( 2003-12-04 11:29) (Shenzhen Daily)
Nicholas Tse and Faye Wang, a couple whose relationship has seen many ups and downs, may have turned against each other again, according to Chinese-language newspapers.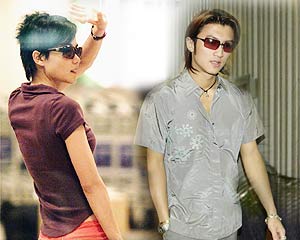 Nicholas Tse and Faye Wong

Tse and Wong would both be in Shanghai later this week, but they would not see each other, agents of the two said. This further confirmed media speculation that the two had split up.

Wong's agent Chen Jiaying said Wong had been ill since Monday. "She suddenly fell ill after she finished her work Monday night. She has stopped all her work and is now resting in Shanghai," said Chen.

It was understood that Tse had no plans to visit Wong, though he is going to give a concert in Shanghai on Friday.

Asked if Wong was going to attend Tse's concert Friday, Chen said probably not because Wong was "busy with work."

An assistant of Tse said Wong had not been invited to the concert. He also revealed that Tse would stay in Shanghai for a couple of days, but "would not meet Wong."

Earlier reports said the two might get married early next year. Some media reports said Tse bought a marriage ring for Wong on Sept. 9, and Tse's mother had ordered a marriage banquet for early next year.

Tse and Wong's love affair was made public in June 2000 and since made frequent headlines on tabloids.

The two broke up for the first time in March 2002, when a third party Cecilia Cheung stepped in. Wong reconciled with Tse, 11 years younger than her, in July 2002, however.

In May 2003, Tse's alleged love story with Anita Mui again made newspaper headlines. Recently there were reports saying Tse fell in love with Mui's agent, Marianne Wong. Some say this is why Tse and Faye Wong broke up.