Nation to establish oil reserves
( 2003-12-04 09:56) (China Daily HK Edition)
In the midst of China's rapid economic development, its oil stores are being used at a faster rate. To prepare for future oil needs, an office dedicated solely to the building and control of the nation's oil reserves is working hard to see that the glass, or tank, stays more than half full.
The central government, which is close to a final decision on the first phase projects of the State oil reserves, announced recently that it had set up a special institution, the State Oil Reserves Office, to administrate the reserves.
The four projects will be located in Aoshan and Zhenhai of Zhejiang Province, Huangdao of Shandong Province and Dalian of Liaoning Province, requiring a total investment of 6 billion yuan (US$724.9 million).
The office, which has been operating since May but was made public for the first time on November 17, is affiliated with the National Development and Reform Commission (NDRC), said NDRC Vice-minister Jiang Weixin. It is responsible for coping with unexpected crises and staving off any serious impact of an oil supply shortage on both economic development and people's daily lives.
The State Council decided to establish national oil reserves last November, and analysts say mounting domestic demand, soaring imports and the rocketing prices of oil products have forced the government to quicken its steps.
The latest statistics indicate that China imported 72 million tons of crude oil in the first 10 months of this year, 13 million tons more than during the same period last year, while national petroleum consumption went up by 8 million tons during the period to reach 108 million tons.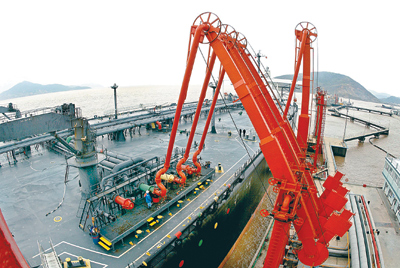 Crude oil pipelines at Ningbo Port, Zhejiang Province. Four oil reserves projects have recently been initiated as the first phase of China's strategic oil reserves plan.[newsphoto]
Meanwhile, oil prices are rising sharply. For instance, diesel oil prices, which stood at 3,000 yuan (US$360) a ton at the beginning of this year, have hit 3,700 yuan (US$447) a ton in Xiamen, a port city in Fujian Province, 4,100 yuan (US$495) per ton in Shandong Province and 3,800 yuan (US$460) in Nanjing, capital of Jiangsu Province.
Rationing has begun in some areas, while in others the diesel oil simply runs out of stock.
Other petroleum products, such as gasoline, have also witnessed price hikes, with demand for both gasoline and diesel expected to rise 4 per cent monthly in the fourth quarter of this year, according to Sinopec, one of the leading oil suppliers in China.
Instructive institution
With only three full-time staff at present, the State Oil Reserves Office is small but holds huge responsibilities as well as power and is headed by Bai Rongchun, who also serves as director general of NDRC's Energy Bureau.
The office is in charge of drafting policies related to the State oil reserves; planning and administration of the reserves; monitoring domestic and international oil demand and supply; suggesting purchases, allocation and use of the reserves; and co-ordinating the construction of reserve facilities.
"We are actively working together with related parties on the establishment and improvement of a State oil reserves mechanism,?said an official with the office, who declined to elaborate or be identified.
The country's three largest oil companies ?Sinopec, Petro China and China Offshore Oil ?are expected to play an important role in building the State reserves, besides their own commercial oil reserves, according to a senior NDRC official who insisted on remaining anonymous.
The State Oil Reserves Office will not interfere with the business of the three companies and neither will the companies participate directly in the operation of the State reserves, he said, but the government will work out policy and taxation incentives to attract their help in the establishment of "a low-cost, highly efficient State oil reserve mechanism under market rules?

A worker at a gasoline station operated by Sinopec fills the tank for his client. Mounting domestic demand, soaring imports and the rocketing prices of oil products have forced the government to quicken its steps in building up its oil reserves mechanism. [newsphoto.com.cn]
The office itself will not get involved in the actual business side of the reserves, the official said, such as interfering with specific purchases and allocation of the reserves, and the State Council alone will decide when to use the reserves. But the office is responsible for providing suggestions on such decisions.
The official disclosed that the government is to finance the reserves with a special fiscal allocation and is very likely to issue long-term State treasury bonds, establish a special investment fund, come up with new types of taxes or launch oil futures, although the financing schemes are still under discussion.
"State oil reserves are not business-oriented,?he said. "The costs should be shouldered by the State.?
The government is considering launching a specialized institution, possibly a national oil reserves corporation, to be in charge of the construction of facilities and the management and operation of the reserves, the official said.
He also called for the drafting and implementation of laws and regulations on oil and oil reserves as soon as possible to standardize the responsibilities of the government, the reserves operator and related companies.
Optimizing options
Oil reserves have been a hot media topic in the last couple weeks following the announcement by the International Energy Agency (IEA) that it would help China build strategic oil reserves and the announcement that the government had established the State Oil Reserves Office.
The IEA said it would co-operate closely with the Chinese Government to build up reserves of at least 20 to 30 days?worth of national oil consumption in the initial stages and up to 90 days in the long run.
Meanwhile, oil experts have suggested that the reserves hold a capacity of 30 days?worth of net national oil imports by the end of next year and 70 to 75 days?worth of imports in 2010. Daily imports now stand at 270,000 tons.
The first phase of reserves projects to be located in Aoshan, Zhenhai, Huangdao and Dalian, are expected to be completed by 2010, but they would at most satisfy 10 days?worth of national demand.
"The establishment of strategic oil reserves is a long process,?said Han Wenke, a senior researcher with the NDRC's Energy Research Institute. "It is impossible for the government to come up with a substantial investment in the next three to five years adequate to satisfy 30 or even 90 days?worth of national demand.?
The United States?oil reserves cost more than US$20 billion to establish, Han noted.
However, the guarantee of a 90-day supply is the standard set by the IEA to safeguard the economy from a sudden cut of fresh supplies. Japan's reserves were designed to hold enough oil to satisfy up to 150 days?worth of demand.
Sources with the China International Engineering Consultancy Co said the oil tanks for the first phase oil reserve projects would be more than 10 million cubic metres in volume, but other sources said the capacity would be greater than that.
The Aoshan project, for instance, is designed to cover a land area of 130 to 150 hectares, including a port capable of docking 250,000-dwt (dead weight ton) ships. An investment of 3 billion yuan (US$362.7 million) will be required to build oil tanks with a total volume of 5 million cubic metres by 2007.
Zhenhai is also planning facilities of the same capacity, but details about the Dalian and Huangdao projects were not available.
Increasing imports
The government has repeatedly stated since before the US-led war against Iraq that building up the national oil reserves was of strategic importance for China, given the country's increasing dependence on foreign supplies.
China became a net oil importer in 1993. Imports accounted for 7.6 per cent of national supplies in 1995, 33.8 per cent in 2000 and 34 per cent last year when the country consumed 241 million tons of crude oil, of which net imports accounted for 83.6 million tons.
Chen Qingtai, a renowned economist, estimated that China's crude oil demand may reach 290 million tons in 2005, surpassing Japan to become the second largest oil importer in the world after the United States.
In 2020, Chen said, national demand will reach at least 450 million tons, 60 per cent of which will be imported.
Meanwhile, domestic production is unlikely to witness sharp increases, said Feng Fei, a researcher with the State Council Development Research Centre.
Feng projected that national crude oil production would range between 180 and 200 million tons by 2020 then gradually decline from that year.
Oil expert Yang Shangming estimated that domestic production, which has been staggering at around 160 million tons since 1997, would reach 173 million tons in 2005, 177 million tons in 2010 and 184 million tons in 2015.
The IEA also forecast that China's net oil imports would increase from 270,000 tons a day at present to about 1.35 million tons in 2030.
Resources in eastern China will soon be used up, Yang said. There is still some potential in western China and offshore areas, but exploration and production costs are high due to difficult geological conditions.
Clean coal an alternative future energy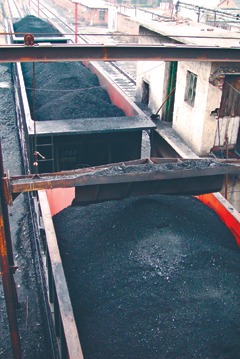 Coal liquidization, a mature technology used in foreign countries, hasn't been well applied in China yet. Experts suggest that clean coal be used an alternative to the diminishing oil supply to solve the country's energy shortage.[newsphoto.com.cn]

While voicing strong support for the establishment of national oil reserves, many experts are calling on the government to attach more importance to liquidizing coal, which China has in abundance, to ease the country's growing dependence on foreign oil.

Roughly 60 per cent of the country's energy still comes from heavily polluting coal.

The transformation of coal into "oil" via liquidization to produce clean fuels is a mature technology being used in other countries but is still not well applied in China.

The end product is said to be cheaper than similar international oil products, said Sun Yuhan, a researcher with the Shanxin research institute of the China Academy of Sciences, noting that oil experts worldwide expect further hikes in international oil prices over the next 30 years.

Meanwhile, construction has started in Inner Mongolia on China's largest coal liquidization project.

The first phase of the project will require an investment of 28 billion yuan (US$3.39 billion) with an output capacity of 5 million tons of oil products a year. The first production line is expected to go into operation in August 2005 with four more lines to be completed before 2008. Another five production lines of similar capacity will be constructed in the second phase.

Analysts note that China must employ all possible measures, including coal liquidization, the establishment of oil reserves and more acquisitions of foreign oil fields through direct investment, as well as improvements in consumption efficiency, to safeguard the fast growing national economy, as a US$1 hike in international oil prices is costing the country an extra 4.6 billion yuan (US$556.2 million) a year and a 0.043 percentage point of its GDP growth.