Journey of love for kids
( 2003-12-04 09:17) (China Daily)
The young members at the SOS-Children's Village in Tianjin were greatly delighted by the presence of two young adventurers on Monday, who had journeyed for six months all the way from Amsterdam.

Michel Van Velde and Elles Albering from the Netherlands chat with children at China's first SOS-Children Village in Tianjin on Monday. [China Daily]

Michel Van Velde, 31, and Elles Albering, 29, began driving on May 17 from the Netherlands all the way to China to promote the work of SOS-Children's Villages.

With a background in marketing, both Van Velde and Albering love travelling but felt the need to do something special with their time. They decided to promote the work of SOS-Children's Villages since they want to become parents themselves in the near future.

"The philosophy that every child in the world needs a home and a mother appealed to us," said Albering.

They launched a website to write about their daily adventures at www.drivetheplanet. com. They also wrote articles for several magazines and raised money for SOS through a mobile telephone messaging service which is now only available in the Netherlands.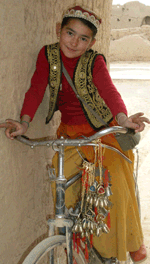 A gril smiles shyly in the Turpan Basin in Northwest China's Xinjiang.

While most people who drive to Asia take a four-wheel vehicle, Van Velde and Albering chose a greater challenge, making the trip in their old-time, little campervan with a kitchen, a bed and even a fridge.

The expedition has led Van Velde and Albering through the Netherlands, Belgium, France, Italy, Greece, Turkey, Iran, Pakistan, India and China. They had to face all sorts of terrain and weather, conditions ranging from the heat of the desert to the cold Himalayan heights.

The last five weeks of their expedition have been spent in China. They had a bad time driving for hours in the Taklimakan Desert where their van was damaged. Luckily, they found a garage that could make repairs.

In Urumqi, they visited their first Chinese SOS-Children's Village.

SOS-Children's Villages International is an organization entirely funded by private contributions with the mission of helping orphaned and abandoned children, regardless of their ethnic roots, nationality and religion by giving them a family, a permanent home and a sound basis for independent lives.

The organization covers 134 countries and regions with 1,480 projects active in 430 children's villages. In China alone there are nine SOS-Children's Villages.

By visiting the villages the ambassadors hope to show the people who donate money that it is being well spent. They also hope to raise more funds and promote additional fundraising events.

Elles learns to make noodles in a restaurant in Lanzhou.

"In Urumqi we were immediately impressed by the work SOS is doing in China," said Albering. "We were welcomed by the mothers into their houses and enjoyed their hospitality. The warmhearted mothers as well as the children they look after made an everlasting impression on us."

When they drove into Beijing on November 27, they both felt relieved as it meant the official end of the expedition.

But the trip was not completed, yet. On Monday they visited China's first SOS-Children's Village established in Tianjin where they met families and spent enjoyable time with the children.

"Seeing these happy children, knowing their background, we know that the philosophy is working and that all money is well spent," Albering said.

Michel Van Velde and Elles Albering contributed to the story.