US advisers urge Bush to drop steel tariffs
( 2003-12-02 17:16) (Agencies)
It's a case of bad timing for the White House: U.S. President Bush is collecting $1 million for his re-election campaign in Pittsburgh, while America's "Steel City" girds for bad news from Bush on tariffs that have buttressed the hometown industry.
White House advisers are urging Bush to abandon the steep tariffs he imposed last year on imported steel. Doing so would avert billions in retaliatory duties from other countries.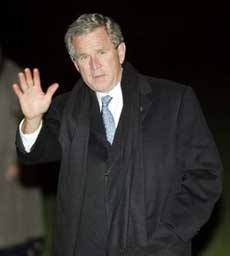 US President Bush waves after his arrival on Marine One helicopter on the South Lawn of the White House Monday, Dec. 1, 2003 in Washinton. Bush returned to Washington after making stops in Michigan and New Jersey to raise money for his 2004 re-election campaign and to promote his economic agenda. [AP]

But the steel industry argues that without Bush's tariffs, low-priced foreign steel will again flood the American market and potentially lead to the elimination of thousands of steel jobs.

Aides said they expected the president to steer clear of the subject in his Pittsburgh visit Tuesday, a trip devoted solely to fund raising.

U.S. Steel Corp. Chairman and CEO Thomas J. Usher is helping to host the event. He said Monday he remained hopeful that the tariffs would remain in place.

"To remove these and to buckle under to the Europeans would be a mistake ¡ª not only for steel but for manufacturing in general," Usher said. "In my opinion, the president has done an awful lot of right things, and my expectation is that he will see the right of this."

In recent weeks, Bush has been silent on the topic of steel tariffs, even when it dominates the headlines and when his message of the day intersects with steel.

Last month, Bush visited a BMW manufacturing plant in South Carolina to tout his economic proposals. The plant is a leading steel buyer, and the visit was on the day when the World Trade Organization declared the administration had illegally hindered trade with tariffs on imported steel.

The president made no mention of the steel debate that day, instead reiterating his general support for "free and fair trade."

Tuesday's fund-raiser was the focus for Bush as he tended to his re-election on multiple fronts, as well as signing a bill promoting adoption.

It was his 23rd visit to Pennsylvania, a vote-rich state he lost in 2000 and the one he has visited most since the election.

After returning, Bush planned a photo session with NASCAR drivers ¡ª an event that Bush inaugurated exactly a year ago. It was one sure to resonate with coveted voter blocs, the "NASCAR dads."

They are white, working-class men who admire Bush but often can be persuaded to vote Democratic, depending on the issue. NASCAR is particularly popular in the South and Midwest, two regions that generally favored the president in his 2000 election and that he must protect for his re-election.

To further highlight its embrace of NASCAR, the White House was making a top driver, Matt Kenseth, the star of an Internet forum usually reserved for administration officials. The "Ask the White House" feature on the White House Web site previously allowed anyone with an Internet connection to question people like the White House chief of staff and Cabinet officials.

But on Tuesday, the White House was handing Kenseth the keyboard for an interactive appearance that coincided with Bush's photo-op with NASCAR champs on the South Lawn. Last year, Bush for the first time added NASCAR drivers to the stable of sports champs who get presidential congratulations.

Bush is eager to press on with his campaign to bank $170 million for his re-election. The holidays will take him off the money trail for a couple of weeks, so Bush hits it hard this week ¡ª and sends his friends and family out, too.

He raises money in Baltimore on Friday. Also that day, his father, the former president, will be in Miami bringing in more cash.

Commerce Secretary Don Evans raises Bush re-election money on Monday in Kentucky, and the president will headline another event Dec. 11 in McLean, Va.