Internet sex column thrills, and inflames, China
( 2003-12-01 16:00) (Agencies)
For the past month, as China has promoted the nation's new space hero or the latest pronouncements from party leaders, the Chinese public has seemed more interested in a 25-year-old sex columnist whose beat is her own bedroom, according to a New York Times article.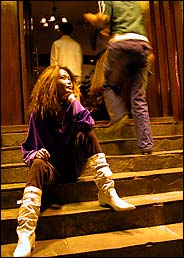 Mu Zimei, 25, who writes about sex, became a sensation across China with her accounts of her numerous sexual experiences, until the government intervened. "I think my private life is very interesting," she said. [File photo]


"I think my private life is very interesting," said the columnist, Mu Zimei, arching an eyebrow and tapping a Marlboro Light into an ashtray. She added: "I do not oppose love, but I oppose loyalty. If love has to be based on loyalty, I will not choose love."

Mu Zimei is both reviled and admired, but she is not ignored. The country's most popular Internet site, Sina.com, credits her with attracting 10 million daily visitors. Another site, Sohu.com, says Mu Zimei is the name most often typed into its Internet search engine, surpassing one occasional runner-up, Mao Zedong.

Her celebrity ! which exploded when she posted an explicit online account of her tryst with a Chinese rock star ! first seemed to baffle government censors but now has drawn a familiar response. Her forthcoming book was banned this week. She has quit her magazine columnist job and halted her blog, or online diary.

Yet at a time when "Sex and the City" episodes are among the most popular DVD's in China, the Mu Zimei phenomenon is another example. Her writings have prompted a raging debate about sex and women on the Internet, where more people are writing blogs or arguing anonymously about a host of subjects in chat rooms and discussion pages.

"She does bring a huge impact on Chinese society," said Zeng Fuhu, a top editor at Sohu.com.

Such sweeping talk does not impress Ms. Mu as she sits in a bistro in this south China boomtown. Women at a nearby table try to eavesdrop as China's scarlet-lettered woman estimates that she has slept with about 70 men, and counting.

She said she never realized her online diary would be so widely discovered, or that it would grow into a national controversy. But she defended her right to sleep with as many men as she pleased ! and to write about it.

"If a man does this," she said, "it's no big deal. But as a woman doing so, I draw lots of criticism."

The novel "The Abandoned Capital," by one of the most acclaimed Chinese writer Jia Pingwa. [File photo]


Jia Pingwa

Sex, and governmental anxiety about it, is not a new issue in China. In January 1994, the government banned "The Abandoned Capital," a sexually explicit, best-selling novel by an acclaimed author, Jia Pingwa. Then in May 2000, censors banned another sex-soaked best seller, "Shanghai Baby," by Zhou Weihui.

But Ms. Mu's case is notable because her most controversial work appeared on the Internet. Mu Zimei (pronounced Moo Zuh-MAY) is the pen name of Li Li, who began working in 2001 as a feature writer at City Pictorial, a glossy magazine covering fashion and social trends. At the end of 2002, editors overhauled the magazine and decided they wanted a sex columnist who could write about "real life" issues.

Ms. Mu said she was chosen because editors knew she was familiar with the subject. Her first sexual experience ! on April 30, 1999, she noted ! ended with an abortion and left her wary of the opposite sex. She followed that with a "pretty normal boyfriend" before concluding she was not a one-man woman. "Personally, I felt I was suitable for temporary relationships," she said.

Her biweekly column in City Pictorial began in January. Her topics included recommendations on the best music for good lovemaking, the aphrodisiacal benefits of eating oysters and technical pointers on making love in a car. It was racy stuff for China, but hardly without precedent.

What changed everything was her decision in April to start her own online blog at a new Chinese site for personal diaries. She said she thought it would be fun.

While writing her magazine column, she had hopped from man to man, sometimes hopping to two men at once, sometimes hopping to married men. Her topics, though, remained more thematic than explicit.


Wei Hui on the cover of her novel "Shanghai Baby." [File photo]

But in her online diary, she began writing explicitly about these encounters, or those of her friends, and on July 26 described her brief and apparently unsatisfying liaison outside a restaurant with a famous guitarist in a Guangzhou rock band.

The entry was posted at a popular online discussion board, spread among China's "netizens" like wildfire and was quickly picked up in the gossipy newspapers that feed China's growing celebrity culture. Eventually, she was featured in China's edition of Cosmopolitan magazine.

In Beijing, editors at Sina.com and Sohu.com also noticed. An estimated 68 million people surf the Internet in China, with annual growth rates approaching 30 percent. Internet users tend to be China's most affluent and better-educated citizens, and though government censors block certain Web sites, the amount of information available online is enormous.

It is also a growing and fiercely competitive business. By early November, Sina.com had bought the serialization rights to Ms. Mu's book, a compilation of her magazine columns, poems and some diary entries. (The diary entries included in the book are not explicit, Ms. Mu said.)

Beginning Nov. 11, Sina.com used its home page to promote the serialization, along with photographs and interviews with the author. The response was stunning. Sina.com normally attracts 20 million visitors a day. Company officials say that number immediately jumped to 30 million and stayed there for 10 days.

She also became a hot topic of debate in different Internet chat rooms and discussion sites. Was she an amoral hussy peddling pornography? Or was she a liberated woman?

"The most loathsome person in the world is not the woman who writes exotic words, but those sanctimonious men!" wrote one contributor to a discussion page.

"I despise Mu Zimei!" one critic countered. Another added, "This kind of diary will only serve as an excuse for more people who want to live a wild sexual life."

Sociologists weighed in, pro and con. A Sina.com poll of more than 30,000 people found respondents about equally split.

For months, the government had remained a bystander. But on Nov. 16, the state-run Beijing Evening News strongly criticized Ms. Mu and accused Sina.com of wrongly promoting her to attract more visitors.

"The blind pursuit after this kind of phenomenon," the newspaper stated, "will mislead people into thinking that the government authorities over news are turning blind to this."

Sina.com quickly minimized, though did not remove, its promotion of Ms. Mu. "When we saw the Beijing Evening News, we realized we might have gone too far," said Chen Tong, Sina.com's editor in chief. "So we pulled back."

Sohu.com's editors initially held worried meetings about Sina.com's popular serialization. But a day after the Beijing Evening News article, the Sohu.com editors, citing the need for Internet sites to maintain content standards, published their own criticism about Ms. Mu.

Asked if the Sohu article was an attempt to undercut Sina's star attraction, Mr. Zeng responded, "It had nothing to do with Sina."

Ms. Mu does not regard herself as peddling smut. She said her generation of Chinese grew up with little or no sex education. "Some learned it from videos," she said. "Why not from words?"

[The government has other ideas, it seems. The decision to ban her book was reported in the state-run media on Friday, Ms. Mu confirmed the ban. Online booksellers, who had been swamped with purchase requests, said government officials ordered them not to sell the book, which had been scheduled to go on the market this week.]

In an effort to defuse the controversy, Ms. Mu said she quit her columnist job in early November and voluntarily shut down her Web site. She said she had other offers and hoped to continue writing, assuming the government does not ban her writing altogether.

She also said the controversy had cramped her social life: she has, she said, been celibate for two weeks.

(Courtesy of New York Times)