Over 60 percent of China's HIV carriers infected through drug use: report
( 2003-11-28 10:06) (Agencies)
More than half a million Chinese HIV carriers, or 61.6 percent of the country's total, have been infected through intravenous drug use, state media reported.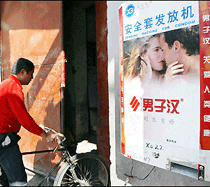 A man enters a building beside a condom vending machine along a Beijing street. More people in China are getting to know how to protect themselves from AIDS and how it is transmitted.[AFP]

Another 9.4 percent were infected through blood donations and 8.4 percent through sexual transmission, the Xinhua news agency reported, citing the Chinese Center for Disease Prevention and Control.

The figures differ from previous data suggesting drug users comprised about 50 percent of HIV/AIDS sufferers in China, compared to 20 percent for plasma donors.

The center said transmission through drug abuse was particularly common in border areas such as southwestern Yunnan province, close to the opium-producing Golden Triangle region of Myanmar and Laos.

Survey results suggested the percentage of carriers infected through drug use and blood donations is falling while sexual transmission is becoming more important as a channel of transmission, Xinhua said.

The statistics are based on official data, according to which China has 840,000 HIV carriers.

International organizations, including the United Nations, believe it is much higher and could rise to 20 million by 2010.