Geragos: Don't mess with Jacko
( 2003-11-26 10:28) (China Daily)
Michael Jackson's lawyer said his client is not going to be a "pinata for every person who has financial motives" and vowed to make sure the jet company that recorded the pop star during flight will go out of business.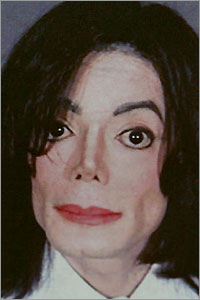 Nov. 20: A Santa Barbara sheriff's office mug shot shows Michael Jackson.

Attorney Mark Geragos appeared at a press conference Tuesday where he had a message for anyone who abused Jackson or invaded his privacy: "We will land on you like a ton of bricks."

Geragos called XtraJet's attempt to sell a video and audio recording in which Jackson is seen and heard talking to Geragos in flight "one of the most outrageous acts I've ever seen in my 20 years of practicing criminal law."

Earlier Tuesday, a Los Angeles Superior Court judge forbade the release of videotape secretly filmed aboard Jackson's flight to Santa Barbara to turn himself in on suspicion of child molestation.

Judge David Yaffe issued a temporary injunction against XtraJet that prevents the corporate jet leasing company from releasing the footage until at least Dec. 19. A hearing on extending the order is scheduled for Dec. 18.

Fox News has already viewed the tape without audio, after the company showed it to several news organizations Monday.

In the video, Jackson was calm and often smiling or laughing during the plane ride ¡ª not a sobbing, emotional wreck as a British tabloid reported over the weekend.

Nov. 24: Attorney Mark Geragos speaks to reporters about the Michael Jackson case.

XtraJet says it found two video cameras stowed away in some baggage compartments with film of the flight on them. The company said it hadn't placed the cameras, but found them during a routine sweep of the aircraft and wanted to know whether it was legal to distribute or sell them.

Jackson attorney Brian Kabateck said an XtraJet attorney denied in court the company placed the cameras in the plane and, on behalf of the Jackson legal team, said, "we think that's just ridiculous."

In other developments, the mother of Jackson's young accuser never mentioned that Jackson had molested her son until recently, according to her divorce lawyer.

The disclosure by attorney Michael Manning came as the New York Post reported Tuesday that authorities have received hundreds of tips since Jackson's arrest last week in California.

Manning said he remembers the mother singing Jackson's praises as recently as April or May.

"'He was really good to us' ¡ª that's what she said at the time," the lawyer said.

Asked if the boy's mother had said anything else about Jackson, Manning added, "Nothing bad. ... If it turned sour, I don't know how."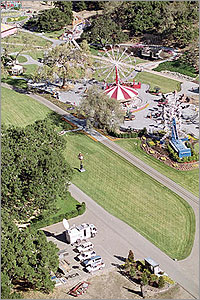 An aerial photo shows Michael Jackson's Neverland Ranch in Santa Ynez Valley, Calif.

Jackson surrendered Thursday on suspicion of sexual abuse of a child under 14 after authorities raided the star's Neverland Ranch on Wednesday. He was handcuffed, booked and released and has been in seclusion in Las Vegas ever since.

Acting on information from callers, Santa Barbara County Sheriff's Department officials are looking at about 100 tips they consider to be serious, the Post reported.

The alleged victim's mother filed for divorce in 2001 and has custody of the children. Manning said she and her son rarely mentioned their visits to Jackson's Neverland Ranch in Santa Barbara County.

"They didn't brag about it," he said. "They weren't star crazy."

Manning said he still represents the mother in the divorce, although he hasn't spoken to her since May or June.

Fox News has also learned the Jackson team has been flooded in recent days with calls from witnesses who were at Neverland Ranch while the boy was there. The witnesses said the boy always acted happy and did not seem troubled.

There are also some employees of Jackson who said they saw the mother of the boy often arguing with the pop star ¡ª sometimes, they said, high on crack ¡ª and that she made demands.

Some members of the Jackson team told Fox News they believed the molestation case was all about greed from the accuser's mother. They said as early as late January she was making verbal threats, saying "she could go to the tabloids and tell some stories if they didn't take care of her."

The child's mother has an unlisted number and could not be reached for comment by The Associated Press on Monday.

Michael Jackson fans hold support signs while standing near their icon's star on the Hollywood Walk of Fame in Los Angeles, California. [AP]

Stuart Backerman, the entertainer's spokesman, declined to comment Monday night.

Representatives of the Santa Barbara County district attorney's office and the sheriff's department declined to comment Monday on the case. Both have said they will not comment until charges are filed.

Jackson launched a Web site Monday designed to tell his side of the story in the child-molestation case, asserting the allegations are "predicated on a big lie."

The singer put the site together so he could communicate directly with the news media and fans, Backerman said. Jackson said in his statement that the site would serve as a source for "official communications on my case."

The site also contains links to three earlier statements Backerman made last week on Jackson's behalf.

Jackson was released on $3 million bail after his surrender Thursday and immediately returned to Las Vegas, where he had been filming a video. Authorities have said they expect to file formal charges sometime after Thanksgiving. His arraignment is set for Jan. 9.