Tsinghua takes plunge with unique diving class
( 2003-11-24 10:42) (China Daily)
Wei Cheng is a 28-year-old teacher who stands only 1.63 metres tall and weighs just 55 kilograms - hardly a physique most people would associate with springboard diving.
But Wei just completed a training regimen with the Tsinghua University diving team.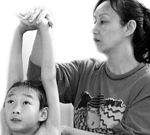 Senior coach Yu Fen instructs young divers during training at Tsinghua University's diving pool. The university has opened diving classes to anyone interested in the sport. [China Daily]

"I had dreamed of the feeling of diving from the springboard, and it really felt cool," he said.

For a long time Chinese diving enthusiasts were at a loss as where to hone their skills, given the fact the sport requires high-standard facilities and professional coaches.

But that's no longer a concern thanks to a new initiative by the Tsinghua University Diving Team, which has established regular classes to instruct anyone interested in pursuing the sport.

Boasting modern facilities built for the World University Games and a squad of experienced high-level coaches led by former national team mentor Yu Fen, Tsinghua aims to meet the needs of all diving enthusiasts.

"Anyone over 6 years old can join in this class. Whether fat or thin, tall or short, they are welcomed to have a diving experience here," said Yu, who coached world and Olympic champions Fu Mingxia and Guo Jingjing.

"Yes, a proper physique is a basic requirement for a person who wants to be a professional diver. But this class targets people who love the sport and are eager to have a chance to enjoy the fun of diving," said Yu, who is in full charge of the class and has hired two other instructors.

The first class of 28 just completed their training, and a second group is now in session every Tuesday, Thursday, Saturday and Sunday. Members are presented with certificates when the term comes to end, but the experience they gain is even more rewarding.

Wei Cheng, the oldest member of the first group to complete the training, said: "I really benefited a lot from the class. It was a good opportunity to discipline myself in will and confidence. I also learned the basic skill of how to dive from such a high place." Yu said the course also offers training that will be useful in other areas.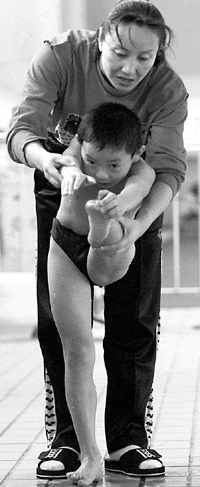 "There are a majority of kids in the class. I am sure here they can learn how to overcome difficulties, to obey teachers, to cultivate a collective mind, which cannot be learned at home. That is why parents are willing to send their children to Tsinghua without hesitation," she said.
When asked about the motivation behind setting up the class, Yu's face reflected slight disappointment.
"People in China always see diving as a sport to win golds in various competitions, rather than a good leisure activity for keeping fit and healthy. Many parents hold hopes of turning their children into world champions one day."
Unfortunately, some youngsters have been pulled from the class once their parents saw no great improvement or potential.
"I joined the class because my parents want me to become a champion one day," said 6-year-old Li Fangqian.
Yu Fen is seeking to make diving more popular for ordinary citizens and make people change their traditional conception.
"The first goal to set up such class is to popularize diving. I hope more and more people will like the sport and get themselves involved. Then, it is only natural that more and more potential divers will emerge," she said.
Yu firmly believes enthusiasm and passion are the best ingredients for improving skills.
"Students are willing to spend time diving. They have a lot of fun here," she said.