Largest gathering of 14,603 Tai Chi fans in Taipei
( 2003-11-24 10:04) (Agencies)
More than 14,600 Tai Chi practitioners set a new world record in Taipei on Sunday for the largest demonstration of the ancient Chinese martial arts exercise.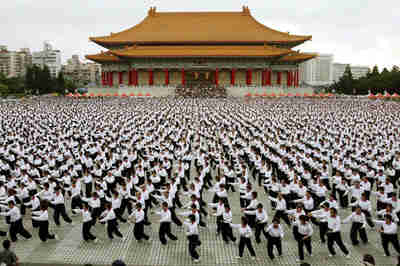 14,603 Tai Chi enthusiasts set a world record for the largest demonstration of the ancient Chinese martial arts in front of the National Theatre at the Chiang Kai Shek Memorial Hall park in Taipei November 23, 2003. [Reuters]

Dressed in white polo shirts and flowing black Kung Fu trousers, the enthusiasts gathered in front of the Chiang Kai Shek Memorial Hall for a 30-minute demonstration of Tai Chi's slow, smooth and precise movements.

"I've been practising Tai Chi for 71 years because it helps longevity and good health," 85-year-old Shui Ti-chiu, the oldest man in the group, told Reuters.

"Tai Chi is good for you, whether you're old or young. I practise every morning and every evening, for one-and-a-half to two hours at a time," said the rosy-cheeked octogenarian, dressed in white silk kung fu robes.

As traditional Chinese music blared from loudspeakers, the practitioners demonstrated 13 Tai Chi postures, synchronised with breathing exercises.

A representative of the Guinness Book of World Records declared the gathering of 14,603 people a new world record, breaking the previous record set by a 10,425-person Tai Chi demonstration in Hong Kong on December 2, 2001.

Tai Chi usually draws older enthusiasts who take it up for reasons of health, but has become increasingly popular with younger people.

The youngest participant on Sunday was six-year-old Chien Chia-teh, who said he has been learning Tai Chi with his parents for 14 months, and skilfully kept up with the synchronised sequences. "It's fun but it's also tiring," Chien said.