City Singers: Which City Deserves a Song?
( 2003-11-24 09:35) (China.org.cn)
We all know the power of a song to make us familiar with a city we have never been to. Well today a song still seems the easiest way to make it popular. Here are several city singers and their stories.
Which city then deserves a song? It depends on whether it can trigger people's desire to express their sentiments. A beautiful song can helps us see the picture of another place. In the following paragraphs we introduce several city singers to you. They are Xu Wei, Wang Feng, Tao Weimin, Kong Jia and Wang Lei.
Xi'an: "The City I Miss"

Xi'an (an ancient city): 3,060 years old
Xu Wei (singer): 35 years old
í░The City I Missí▒ (a song written by Xu): 6 years old
Xu Wei is a native of Xi'an. When he was 12 years old, he won the top prize at a local guitar competition. He is now very popular with many music fans all over the country. But few know his past. He gave up the opportunity to enter university and when he was demobilized from the army, he gave up a well-paid job teaching and again selected a lonely but most beloved way to pursue his dream of music making.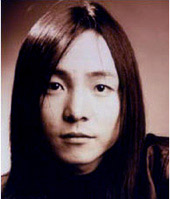 When Xu was in Xi'an, he used to walk on the old city walls aimlessly as the sun set.
"At that time, even eating was a big problem for us. We were so hungry that we couldn't pluck the strings. One bowl of hand-pulled noodles for five men, and five bowls of noodle soup free of charge. The ideal life we longed for was only two expensive guitars and a pack of Marlboro cancer sticks. "Flying" was the imagination and dream for most people who are in an isolated environment yearning to be free. His band formed in Xi'an was called "Flying". It won acclaim as well as applause despite an inevitable separation in 1994. After that Xu came to Beijing.
- The sun is setting in the city I miss. Why am I always full of affection for her? She made me happy and made me sad. She gave me hope as well as desperation...
Walking on Chang'an Street in Beijing, these lyrics and melodies for Xi'an flew out smoothly from the bottom of his heart. Sometimes, to better understand a city, you have no better choice than to leave it. The City I Miss is a popular song recorded in Xu's first album: Elsewhere. All his experiences and emotions accumulated along the ancient city walls of Xi'an have been pressed into the little magic cassette.
- I have only two days but I cannot guarantee. One day for birth and the other for death. I have only two days but I cannot guarantee. One day to gain and the other to lose...
After the second album was published, Xu decided to go back to his hometown. He found that Xi'an had become more and more modernized. But compared to Beijing, the tempo of people's life in Xi'an was still a bit slow. Over the following year, Xu ate properly and slept early, and took physical training every morning. He chatted with his parents, practiced calligraphy and read works of Chuang-tzu (369-286BC Chinese philosopher and writer of the Warring States Period).
"I found that there were many people in Xi'an pursuing their dreams quietly with few social contacts. They seek neither fame nor wealth, just like hermits." Xu realized, "Actually, Xi'an is very nice." From then on, words like loneliness and desperation have all but disappeared from his lyrics.
Beijing: "Goodnight all the sleepless people"

Beijing (the capital of China): more than 3,000 years old
Wang Feng (singer and violinist): 32 years old
"Goodnight Beijing" (a song written by Wang): 8 years old
- I'll sleep in the rain tonight. In the noise of homemade steamrollers, with the pain of the wound, I'll sleep in the rain tonight. Goodnight Beijing, goodnight all the sleepless people...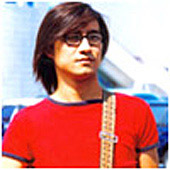 "For music makers, the primary advantage of Beijing is that they can get responses in the city," Wang Feng said. Thanks to the publication of the local music radio program Midnight Blues, Wang and his band members got the response they deserved and then produced their first album No.43 Baojia Street which enjoyed the same title of his band. Goodnight Beijing is the representative work of the album.
Were he living in another city in China, Wang dares not imagine what his life would be like today. Beijing was the last and only choice for China's underground music makers. Some are still unacknowledged here and others finally succeed. After all, Beijing doesn't promise anything for anyone.
With the exception of several years during his childhood, Wang has spent most of his time in Beijing. "Sometimes I feel that the place you live in is more important than yourself, or only by finding a city suitable can he feel at home." In his opinion, Beijing is much inferior to many foreign developed cities as he has been to many countries. Even so Wang still feels very proud to live in Beijing. His pride doesn't depend on whether Beijing is the capital, whether developed or not, but that it has soul.
Writing about Beijing, Wang will never exhaust his creative power. He says, "So long as you are broad-minded, the city will stimulate your creative inspiration all the time. He wrote at home, made friends from all walks of life in Beijing and moved from one place to another... "One who doesn't experience failure and torture will never understand the other side of the great city," Wang said.
Several weeks ago, Wang's mother found an old notebook in his house in which Wang again saw the song he wrote in 1985, called Capital Story. Maybe from the moment that he wrote down the first note, he had decided to sing for Beijing.
Guangzhou: "A village or a city?"

Guangzhou (capital of Guangdong Province): 2,217 years old
Wang Lei (singer, music critic): 32 years old
"A Spring Dream of Guangzhou" (a song written by Wang): 5 years old
Since 17-year-old Wang Lei left Sichuan Province, he has spent over 10 years in Guangzhou publishing five albums, growing and thinking.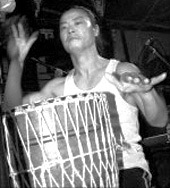 In 1994 when pop music was flourishing in Guangzhou, Wang published his rock album "The One Who Went out". "Wearing Long Hair for You" unexpectedly became one of the most popular songs in Guangdong, playing all the time on the radio. Singing, publishing records, opening an Unplugged Bar over the past 10 years has been like a dream. Wang realized it was just his wishful thinking to accomplish fast cultural developments in Guangzhou.
Many of his songs show his deep affection for Guangzhou. With neither praise, nor curse, he just sang for the common, even mediocre city. In A Spring Dream of Guangzhou, he sings:
- If it snows in Guangzhou someday, it must snow for the sake of me; if Guangzhou has a dream someday, she must dream for the sake of me...
The advantage of the city, he says, is that it is very free and offers opportunities to everyone. While the disadvantages are that it always looks like a farmerí»s city where fashion can never grow. Ever since Wang came to Guangzhou, he spent little time going back to Chengdu. Being avant-garde in music style, and a folk singer, he thinks that Guangzhou was substantially the best city to make rock and roll music in China. He claims that rock music in Beijing is easily mixed with pop songs. "I write the good and the evil of Guangzhou, every album is a story about the city."
Wang Lei acknowledges that given a chance to choose again, he would select neither Guangzhou, nor any city in China. However, he says that "My first love is to criticize!" So he still sings, expressing his sensibility and feelings for the city.
Shanghai: "The Reason I Love Shanghai"

Shanghai (coastal city): 712 years old
Tao Weimin (lyrics): 37 years old
Kong Jia (composer, singer): 25 years old
"The Reason I Love Shanghai" (song written by Tao): 2 years old
In May 2001, The Reason I Love Shanghai was published as the advertisement song for Reeb Beer, occupying all channels on TV. Many Shanghai natives felt they saw themselves in the advertisement. Many people told Tao Weimin, "Oh my - it's all about me!"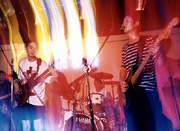 "I remember the song was more popular than pop songs from Hong Kong and Taiwan," Kong Jia, singer of the song recalled proudly.
Tao Weimin lived all his life in Shanghai, since his childhood in the Jing'an Temple area, teaching life in the drama academy after graduation to today's work in the advertising circle. "Perhaps it's because my character fits the city," he says, smiling. "In Shanghai, the more diligent you are, the more comfortable life you enjoy. The tempo of urban life has been getting faster owing to all kinds of individual demands." In Tao's mind, Shanghai has been self-polished many times. "Actually, I only spent about a meal's time to finish the song." However, the 60-second advertisement describes the change of Shanghai over the past 10 years.
Kong Jia graduated from Shanghai Conservatory of Music and now serves as a composer in an advertisement music production company in Shanghai. At night, he sings in bars on Huaihai Street. The Shanghai native tried twice to go to Beijing for further development but found that if one had adapted himself to the lifestyle in Shanghai, he could never feel easy in Beijing. "Maybe I can get inspiration more easily here." In The Reason I Love Shanghai, his inspiration was shown as a natural feeling full of spoken parts depicting the life of the ordinary person.
The Reason I Love Shanghai is also widely sung by people both native and migrant. When the song took root in the hearts of the people, it indicated that the emotions the singer expressed had completely blended with the character of the city.
It is Shanghai, a city with a short history but known as "the future of the world."