Sex diaries trigger Internet gossip
( 2003-11-24 08:36) (Shenzhen Daily)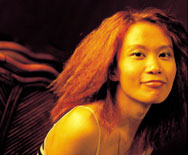 Muzimei

Muzimei, a woman columnist with the Guangzhou-based City-Pictorial magazine recently became a household name due to her audacious online sex diaries. Entitled Yiqingshu, the diaries reveal the details of her one-night stands with different men, recording the real names of the men involved in the affairs.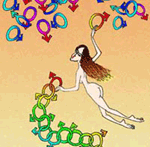 Mu claimed she just recorded objectively what had happened. And she didn't admit she herself publicized the diaries, arguing that she hid them deeply on a Web site that requires login and can be read only by a few friends.
Muzimei soon became a hot click with many netizens giving contrasting opinions of her and her diaries.
Dean A. NashEnglish teacher
This kind of thing happens in America all the time. It's just like Sex and the city, which are real things instead of fiction. These are very common in the States, and I am happy I am away from them.
I think it is trivial and it is ridiculous the media pay so much attention to it. To quote a wise " Intelligent talk about ideas; educated people talk about things; uneducated people talk about people." There are far more important things to care about in this world. All the things are her personal life, which does not affect me, nor help me in any way. It does affect children though, and parents should have more supervision over which web sites they visit.
But I do think the incident represents a greater freedom of expression in China and I am amazed at it.
Wang Xiaohuasociologist
The Muzimei phenomenon represents the multi-values of current society. People like her are more concerned about their own feelings and are willing to express them publicly. At a time when universally recognized social values have not been established, people can only make their own judgments on new things.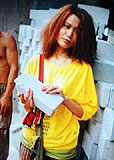 Her affairs and her life style are beyond criticism as long as she has not harmed others. But the fact that she chose to publish her diaries on the Internet, revealing the names of the men involved without asking for their permissions, shows no respect for these men and has apparently hurt them.
As a columnist, she should bear some social responsibility when publishing something on the Internet, as it has great influence on the younger generation and her diaries may mislead them.
I disagree with the opinion that Muzimei is consuming men from the angle of women and that since she is doing something that many men have done secretly, what's wrong with her behaviour╣Ď Men and women ought to treat each other fairly, based on mutual respect. It should not be who consumes whom, or if men hurt women, it's now time for women to hurt men.
Ji Yingchunintern lawyer
From the perspective of law, one-night stands based on mutual consent are not illegal although people may raise moral concerns about them. But according to civil law, details of sexual life are a citizens' privacy. Publicizing the real names of men involved and the details of making love without their consent contitutes a of violation of privacy. Should one of the men concerned sue her, she may stand a chance of losing the case.
Some lawyers even argue that Muzimei is suspected of spreading pornographic literature. But I don't think the plot is serious enough to constitute a crime. Many works of literature now include sexual descriptions more naked than those written by Muzimei and are considered acceptable.
The Internet also plays a crucial role in the matter. Mu Zimei must have brought the Web site that carries her diaries great profits. Internet censorship or management has not been soundly established. As a media, Web sites should shoulder their obligation to the society. But as it is now impossible to rate Web sites, there are always some problems concerning the contents of Web sites.
Amy Baiyoga teacher
As a woman, I cannot identify with her behavior but I can accept her existence. Society is more tolerant and the affairs are really her own business.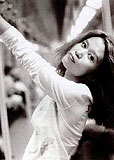 I have been to many countries and I find Chinese women are much more open than women in many other countries, who seem to have stronger concepts of family.
Personally, I appreciate traditional women who are good girls and good wives. Modern society no longer requires a woman to remain a virgin until she gets married. But how can a woman sleep around without love.
As most Chinese have no religious belief, and tradition is no longer strongly followed, moral restraint is quite limited, which is rather worrisome.
As for her reason for publicizing her affairs on the Internet, I doubt she was once seriously hurt by men. People say she wants to become well-known by spreading her privacy, but whether she is well-known or notorious, I dare not say.