State of emergency in Georgia
( 2003-11-23 09:07) (Reuters)
Georgian opposition protesters stormed parliament on Saturday, proclaiming a "velvet revolution" and forcing President Eduard Shevardnadze to flee to his home where he declared a state of emergency.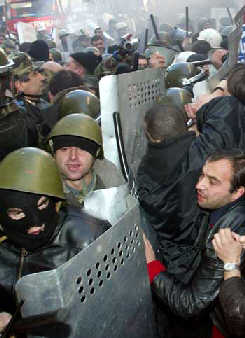 Georgian riot police clash with protesters at the presidential office in central Tbilisi, November 22, 2003. [Reuters]

Tens of thousands of Georgians demanding the veteran leader quit took to the streets of the capital Tbilisi while troops stood aside.

Ex-Soviet states, including neighboring Russia, immediately came out in support of the beleaguered Shevardnadze who faces the biggest threat to his 11 years in power that opponents say has dragged Georgia deeper into poverty and despair.

The main opposition leader said Shevardnadze, whom he accuses of rigging November 2 parliamentary elections, could stay on only if it was to call early fresh elections.

"The victory has almost been accomplished," Mikhail Saakashvili told thousands of supporters outside parliament.

But Shevardnadze's spokesman said the army would take control unless parliament endorsed the state of emergency within 48 hours.

Culminating two weeks of street demonstrations, protesters had thronged into parliament where Shevardnadze, 75, had been addressing the inaugural session.

They clambered onto the podium, dancing, shouting and waving national flags in delight and the president fled for his home on the outskirts, protected by bodyguards and special forces.

Saakashvili told CNN television: "We won't accept anything short of (an early election). If he announces for himself some transitional period for new presidential elections, that's fine.

"It's a corrupt regime, he stole the election, he ignored the will of the people," the 35-year-old said. "He's out."

"It's a bloodless, a velvet revolution," he said.

Shevardnadze has another year and a half in office. At home, he has become increasingly unpopular for his failure to end grinding poverty.

Pro-Shevardnadze parties won a majority in this month's elections, which were widely criticized as rigged. Washington and the OSCE human rights watchdog also raised concerns.

PRESIDENT REFUSES TO BUCKLE

Opposition figure and parliamentary speaker Nino Burdzhanadze declared she was taking on the functions of president in the Caucasus state until the crisis was resolved.

But Shevardnadze, who has survived at least two assassination attempts in the past, refused to buckle.

"This is an attempt at a coup d'etat and an attempt to overthrow the president," he told reporters in his garden, where he sat on a bench with his hardline interior minister.

"I'm declaring a state of emergency. This is a special order and the Defense Ministry as well as the Interior Ministry will be involved in it. And we will restore order."

"Looking at these people it is possible a civil war could break out. I have allowed too much liberalism...It is a crime against the people and the motherland. I won't allow it."

Analysts have said Shevardnadze also faces a split in his inner circle after the secretary of Georgia's Security Council said he was surrounded by "reactionary forces" keeping him in the dark about reality on the streets.

RUSSIA SENDS MINISTER

The Kremlin said Russian Foreign Minister Igor Ivanov would go to Georgia after President Vladimir Putin consulted other leaders of ex-Soviet states on the situation.

The former Soviet states, in a statement that clearly voiced Moscow's concerns over events in its former colony, denounced as "unacceptable" opposition moves to seize power.

The United States and other Western countries have urged both sides to avoid violence and talk.

Georgia is closely watched by Western governments and investors keen for stability in a country soon to carry a pipeline to take Caspian oil to the Mediterranean Sea.

Georgians fought a bloody civil war in the early 1990s and two regions have broken away from central government rule.