Around 100,000 march against Bush in London
( 2003-11-21 08:51) (Reuters)
Around 100,000 protesters marched through London and tore down a mock statue of visiting U.S. President Bush Thursday, many of them convinced his policies were to blame for anti-British bombs in Turkey.
Demonstrators of all ages beat drums and blew whistles along a 3-mile route that took them past parliament and the end of Downing Street, where crowds paused to jeer toward Prime Minister Tony Blair's office.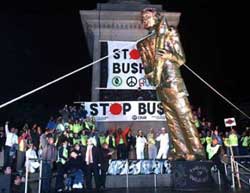 An effigy of US President George W. Bush is pulled down in Trafalgar Square, London, as part of a large protest over his state visit November 20, 2003. The protestors were mimicking the pulling down of a Saddam Hussein statue in Baghdad by U.S. troops during the war on Iraq. [Reuters]

When they reached Trafalgar Square, protesters felled a 20-foot papier mache statue of Bush in a parody of the toppling of a statue of Saddam Hussein when U.S. troops swept into Baghdad. In its top pocket was a puppet with a grinning Blair face.

"Bush and Blair said they were fighting a war against terror to make the world a safer place for people," said Paul Burrows, 38, a university lecturer. "They haven't done that. Going out bombing people just gives them more reason to hate the West."

Hours earlier, suspected Islamist suicide car bombers had attacked the British consulate and the offices of Britain's HSBC bank in Istanbul, killing at least 27 and wounding hundreds.

At a joint news conference, Bush and British Prime Minister Tony Blair declared their determination to wipe out terrorism wherever it occurred.

That stance won little backing among demonstrators angry at the U.S.-led war in Iraq and suspicious of American motives.

"The terrorist attacks are exactly the sort of thing we predicted would happen if they went into Iraq. They've proved us right," said Martin Smith, 64, a documentary film maker from Bristol, England.

Alex Pummell, 28, said invading Iraq had greatly increased the risk of attack "and not just for us but for any country supporting British countries and organizations."

KIDS SKIP SCHOOL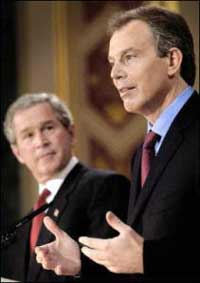 Britain's Prime Minister Tony Blair (R) speaks at a joint press conference with US President George W. Bush at the Foreign Office in London. Blair and Bush both condemned the dual attacks on the British Consulate in Istanbul and the offices of the HSBC bank. [AFP]

Organizers estimated as many as 300,000 people had taken part in the demonstration. A police crowd control officer on the ground put the turn-out at above 120,000, while Scotland Yard's press office said there were 70,000 protesters.

A group of London schoolchildren skipped class to join the demonstration. "We don't want Bush here," said Dyana, 14.

She and her friends marched shoulder to shoulder with pensioners, office workers and students banging drums and blowing whistles. Some protesters wore Bush masks, others were dressed as Ronald McDonald.

Philip Miller, 79, said he had flown over from the United States especially for the march: "I was in World War II and I've seen some of the horrors of war, the distress of the civilian population, the hunger and homes destroyed."

Touring Buckingham Palace's collection of jeweled Faberge eggs, first lady Laura Bush told reporters she had barely noticed the opposition to her husband's state visit to Britain.

"We've seen plenty of American flags. We've seen plenty of people waving to us -- many, many more people in fact than protesters," she said.

All police leave was canceled for the duration of Bush's visit and over 5,000 officers were on the streets. Police said they had made 46 arrests since Bush's arrival Tuesday evening, all for minor offenses such as drunkenness.