Asia boom drives Japan's exports
( 2003-11-20 10:01) (CNN.com)
Japan's trade surplus rose in October for the fourth straight month as exports to Asia -- mainly the booming China market -- rose to record levels, government data shows.
Japan's customs-cleared trade surplus rose 20.4 percent in October from a year earlier to 1.0739 trillion yen ($9.83 billion), exceeding economists' consensus forecast of 950.0 billion yen.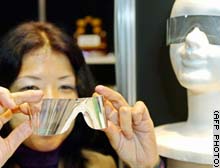 Japan's export recovery continued in October, lifting the trade surplus.

Exports were up 5.4 percent from a year earlier, although they fell 2.8 percent from a month earlier on a seasonally adjusted basis. Imports were up 1.8 percent year-on-year but down 4.9 percent month-on-month.

Exports to China jumped 27.8 percent from a year earlier, offsetting a 6.2 percent drop in shipments to the United States, which is still Japan's biggest trade partner.

Although the 10th straight month of decline in U.S.-bound exporters appeared worrying, Azusa Kato, an economist at BNP Paribas in Tokyo, said the outlook was brightening.

"The underlying recovery trend in exports is continuing. Although exports were down 2.8 percent from a month earlier, this comes after a big jump in September and does not change our view on the trend," she said.

Peter Morgan, chief economist at HSBC Securities Japan, agreed with the optimistic view, noting that exports on a volume basis were up 7.3 percent.

"There are growing signs that exports are bouncing back in the second half of this year," he said.

Led by shipments to China, exports to Asia amounted to a record 2.3306 trillion yen in October on brisk demand for liquid crystal display panels, DVD lenses and mobile phone parts. Exports to Asia have grown for 20 straight months.

Imports from Asia also hit a record 1.8045 trillion yen.

"Exports to and imports from Asia continue to be robust," a Finance Ministry official said.

On the whole, economists said the figures underscored growing optimism that a recovery in exports will help Japan extend its seven-quarter-long economic expansion.

But they come a day after the yen soared to three-year highs around 107.50 yen to the dollar, up more than 10 percent in less than four months, raising concerns that Japanese products would be less price competitive abroad and dampen exports.

September quarter gross domestic product (GDP) figures released last Friday showed that external demand accounted for 0.2 percentage points of 0.6 percent economic growth in that period.

Much of the domestic demand came from capital spending, which in turn was spurred by export demand for manufacturers.

The budding recovery is good news for Prime Minister Junichiro Koizumi, who was reelected as prime minister on Wednesday after the ruling coalition coalition retained its majority, although reduced, in a November 9 Lower House election.

The government will release its latest assessment of the economy later on Thursday, and is widely expected to upgrade its view for the first time in two months on the back of growing exports and industrial production.

The Bank of Japan begins a two-day policy-setting meeting later on Thursday. Economists expect the central bank to maintain its hyper-easy monetary policy, although pressure to take more stimulus steps could increase if stock prices fell further.