Dollar hits new low against euro
( 2003-11-20 09:51) (CNN.com)
The dollar is trading at an all-time low against the euro over growing fears of U.S. protectionism and a waning appetite for U.S. assets among foreign investors.
The euro rose to a new peak of $1.1978 Wednesday in London, extending its gains over two percent in New York the previous day.
Traders say the euro is set to break the $1.20 mark.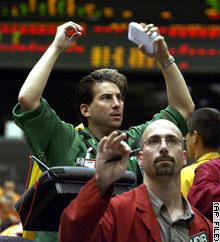 Currency traders have been selling the dollar in favor of the euro.

The U.S. decision to impose new quotas on Chinese textile imports has raised fears that Washington may resort to protectionism to shield its domestic industries and curtail its huge current account deficit.

"The U.S. move has made people think the U.S. may be able to reduce its current account deficit only through that kind of measure,'' Fumihiko Kawano, a foreign exchange manager at Nomura Securities, told Reuters.

"The U.S. is running a current account deficit, so if foreign funds don't come in, the dollar is destined to fall.''

The arrest of 48 Wall Street currency traders Tuesday, in connection with an FBI fraud investigation, also damaged the image of the dollar.

Worries that the United States may not be attracting foreign capital, which it needs to finance its current account deficit, also weakened the dollar.

Treasury Department released figures Tuesday showing that foreign investment in U.S. stocks and Treasury notes slowed sharply in September -- which pressures the dollar since there is less apparent demand for U.S. assets.

As a result of the deficit, foreign money must constantly flow into dollar-denominated assets just to keep the greenback stable. Eventually, say the dollar bears, foreign investors are going to decide enough is enough and the dollar will be in for a sharp adjustment.

Some analysts believe the U.S. is prepared to see a weaker a dollar in future.

Meanwhile, the dollar is showing some resilience against the yen. It managed to stay slightly above its late U.S. levels of about 108 yen, off the three-year low of 107.86 it hit in late October and again last week.

The dollar was helped by expectations that Japan would step into the market to weaken the yen, with some traders speculating the Bank of Japan was placing dollar bids below 108 yen.