$3m sex abuse bail for Michael Jackson
( 2003-11-20 09:25) (Times)
A warrant was issued for the arrest of the singer Michael Jackson yesterday on suspicion of ¡°multiple counts¡± of child molestation carrying possible jail sentences of up to eight years each. This could destroy a campaign to relaunch him as a music legend.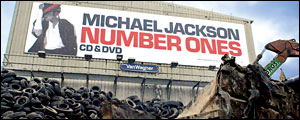 Mr Jackson, 45, who was thought to be in Las Vegas yesterday making a video, has been invited to surrender himself to the sheriff's department in Santa Barbara, the exclusive beach resort about 25 miles from his ranch, Neverland. Bail has been set at $3 million (¡ê1.9 million) and Mr Jackson is being asked to surrender his passport.
The warrant was issued after 70 detectives raided Neverland on Tuesday ¡ª the day that Mr Jackson¡¯s career-spanning CD, Number Ones, was released. The detectives were thought to be looking for videos, photographs, letters and e-mails and searched the ranch for 15 hours.
¡°In a very short period of time, there will be charges filed against Mr Jackson,¡± Tom Sneddon, the Santa Barbara County District Attorney, said. Mr Sneddon was also involved when Mr Jackson was accused of child abuse in 1993. That case was settled out of court and Mr Sneddon said he had not given Mr Jackson another thought until new allegations surfaced.
He suggested that this time he was expecting the child involved to testify against Mr Jackson, saying: ¡°This time we have a co-operative victim.¡± He also declined to rule out charges against other individuals and urged parents to keep their children away from Neverland, where Mr Jackson often holds ¡°sleepovers¡± for pre-pubescent guests.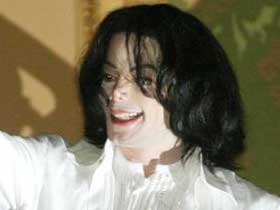 ¡°Mr Jackson has been given an opportunity to surrender himself,¡± he said. Mr Jackson was expected to charged, fingerprinted and photographed in Santa Barbara County jail by this morning.
Yesterday afternoon, there was no official confirmation of Court TV rumours that the complaint was made by the family of a boy of 12 or 13 who had visited the ranch. The programme Celebrity Justice said the investigation was the result of a tip-off from a therapist who spent time with a boy who had been to Neverland.
There were also rumours that the family would not agree any monetary settlement and wanted charges pressed against the singer. It is not clear whether Mr Jackson could afford the estimated $20 million he paid to settle the 1993 allegations, given his personal debts of about $240 million.
Last night Mr Jackson issued a statement dismissing the charges as scurrilous and outrageous. He was returning to California immediately to confront the allegations through his attorneys, led by Mark Geragos.
Mr Geragos is one of America¡¯s most celebrated defence lawyers and represented Winona Ryder on shoplifting charges last year.