HK Mr Charming Tony Leung born to be an actor
( 2003-11-20 08:45) (Xinhua)
Tony Leung Chiu-wai has become the most sought-after actor in East Asia.
After completing his studies, Tony Leung worked under contract to the television channel TVB. He began by hosting a children's program, then attained popularity by appearing on several television series. It is with Wong Kar-wai that Tony has enjoyed his strongest, most durable collaboration.
Romance
Around the end of 1989, he dated Carina after they spent hours preparing a stage show. He had known her since "The replica" in 1984. She used to be a good friend with Margie, but after their romance went public, Margie and Carina distanced themselves from each other. It's understandable since it is never easy to be friend with your ex-boyfriend's girlfriend.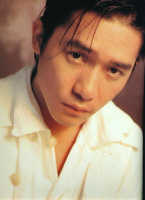 Carina had just came off a humiliating experience of her own. Her ex-fiancee called off their wedding just weeks before the scheduled wedding day. Tony had recently broken up with Margie for the 3rd time. They were attracted to each other because they had suffered similar kind of losses. Both had plenty rocky relationships before and experienced enough hardships in life, Tony, a product of a broken family, and Carina, a mainlander trying to adapt in HK. For some reason, they bonded.
From 1989 to now, Tony and Carina had been going steady, except a few minor incidents. In 1993, Tony was rumored dating Valarie Chou after shooting a MTV with her. One time, Carina met Valarie at a movie premiere, and she refused to take picture with Valarie. However, eventually when the rumor cooled down, everything was back to normal. In 1994, Carina filed a law suit against her personal assistant for stealing her check.
Her male assistant testified on the court that he had sexual relationship with her. But later, Tony dismissed the case by publicly going on air and said "I love Kai-Lin" on a radio show in new year eve. Then in 1997, Carina were again involved in a complicated family matter. Her long time friend Mr. Lo was filing for divorce.The rumor said she was the third person in this marriage. Both Tony and Carina denied the rumor, and defended themselves. The never ending rumor mills were targeted at Tony again on the March of 1998, Tony was being caught on camera driving Rosemund Kwan home.
The HK East Touch Magazine took photos of Tony and Rosamund outside of a night bar on 3/7. Apparently, they were having a good time with a group of friends in the "97's bar". Later, Tony drove Rosamund home. Rosamund claims there is nothing going on with Tony. She is a good friend of Carina, and Tony simply gave her a ride home. Right after that, another rumored affair between Carina and a Taiwanese actor hit the stand, Tony claimed the rumor was ludicrous. All of things listed above were so-called "juicy" rumors, none had been proven true. Tony said many times before that he intended to get married whenever he felt like he wants to settle down. Apparently, that time hasn't come yet. We will just have to be patient and wait for that moment.
Childhood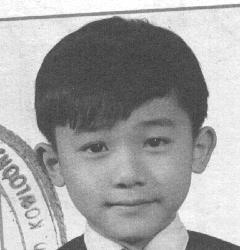 Tony was born on June 27, 1962. He used to be a mischievous boy before his father left the family. Although his father was a career gambler, but he took care of his family until the day he left them for good. During his childhood, Tony often heard his parents' fighting for money, or his father got drunk after winning a bet. After witness so many ill effects of gambling can do to a man, he promised to himself that he would never get involved in any kind of gambling activities. Even to this day, he would be reluctant to participate in a relaxing game of Majiang. He feeling toward his father was always mixed.
To him, his father was just a stranger, if his father had stayed with the family, Tony could go to a college, something he always dreamed of. But there was very little he can do when his father left the family. His mother was left alone to take care of two young kids. His parents' unhappy marriage cast a dark shadow and left a big scar on Tony's faith toward marriage. He had trouble believing in marriage. He would picture marriage as something that was unreliable and stressful to certain extent.
After his father's departure, being the only man in the house, Tony felt the need to step up and protect the women of the house. He behaved himself and grew into a mature kid. His mother worked hard to keep him attending a private school, but without a strong financial support, Tony quit school after age 15. He wanted to ease the burden off his mother's shoulder. He started as a paper boy in his uncle's grocery store, then worked other jobs, such as selling air conditioners, fridges and washing machines. Tony was a close friend with Stephen Chiau at the time. Stephen used to talk to Tony about TVB training school and how he always wanted to become an actor. Tony wasn't interested initially, but later he sent in the application to tvb following Stephen's advice.
Early Success
After he was admitted to the training school in 1982, his acting talents quickly caught many directors by surprise. He gained his star status soon after a kid's show "430 Space Shuttle". Tony was a determined young man with ambition to succeed. He knew acting was the only thing that he can do better than anybody else, and it's the only way to make his mom proud of him. He put forth effort and made himself the prominent star of the eighties. His popularity exploded soon after the release of "Duke of Mount Deer" in 1984.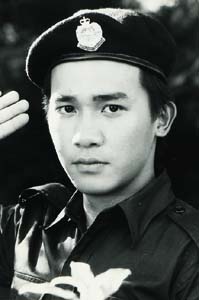 "Police Cadet 84" was another highlight of Tony's tvb career. His acting ability came natural for him. This was what he said about acting, "I'm a quiet person. And then when I went to TV it all came out; I cried and I wasn't ashamed. The audience thinks it's the character's feelings, but really it's my feelings, all coming out in a rush. It's the only way I can feel really good about myself. And it's the only way I can let it all out." Indeed, what he displayed was the true emotion. Tony had excelled in portraying various characters, and had gained the recognition as a versatile actor, as well as being an extremely popular one.


It's also at this time, he met his sweetheart Margie Tsang. They met in tvb batch artistes training class in 1983. They were the most celebrated young lovers in mid 80's. Especially after "Police Cadet 85", they became the hottest couple on the screen as well as off the screen. They had broken up three times, each time was followed by a celebrated reunion. Their romance had kept everyone in suspense. However, the problems started when Tony reached the ultimate stardom after 1984. Tony's demanding schedule kept him busy on the shoot, and he seldom had time to spend with Margie. While Margie was gaining popularity after "Police Cadet 85", she too were busy shooting films and making new friends. Despite it all, they were still deeply in love. In a span of 4 years, they broke off and reunited three times, before finally calling off the relationship in 1989.

After Tony broke up with Margie the second time in 1986, he met Kitty Lai. They co-starred "Heavenly sword and Dragon Sabre" in 1986. Soon after the release of "Heaven", they were rumored to fall in love. Many Tony-Margie fans weren't too happy to see that. Some were so bitter-sweet, and resent the idea of Tony-Margie weren't able to reunite because of Kitty. They even wrote hate mails to Kitty. Being a sweet and carefree girl, Kitty didn't fall for the traps and loved Tony as always. Unfortunately, Tony didn't return the same kind of love that Kitty had reserved for him. Deep down, he still loved Margie more than anybody else.

In mid of 1988, Tony had a chance to work with Margie again on "Police Cadet 1988". To no one's surprise, they were fallen in love once again. So, where did this leave Kitty? Tony had not given her any explanations, and hadn't dated her for weeks. He had hoped that Kitty would understand it was a sign of breakup, but he couldn't face her to tell the truth. In short, Tony left Kitty alone to face the humiliation of the press. In all fairness, he had deeply hurt a very lovely and sweet girl. Facing this agonizing defeat, all Kitty could do was to swallow the pain and stay strong. Eventhough many people wanted to blame Tony for this messy situation, however, they were also happy to see Tony and Margie finally getting back together. Now with everyone's blessing, Tony and Margie were back together for the third time, but it didn't last very long. By the end of 1988, Tony and Margie were officially separated for the last time.

Troubling Years

Tony became famous when he was very young. Being famous, every bit of his mistakes were magnified 10 times greater under the microscope. When his relationship with Kitty/Margie reached to an epic level, it became the daily gossips of the newspaper. His stardom did not settle easy with him, he was struggling within himself. He was leery of all the attentions he had attracted. In short, he was living in fish bowl, paying a price for being rich and famous. As a kid who grew up without a father, he suffered the most ill effected self-esteem and self-abandonment.

He didn't know how to deal with success, or a love triangle. Even as his success and popularity grew, he was still unsure of himself. Looking back, I don't think he enjoyed his fame and wealth. His self-abandonment had reached to a degree beyond his possible imagination. He was a tortured and miserable soul.
Early 1989, Tony was determined to leave tvb to begin his movie career. Tony was very successful in tvb, but he was getting paid very little compared to how much work he had put into. Only the movies offered him a better pay as well as a higher prestige. But he was taking a big risk leaving the small screen for the big screen.

At the end of 80's and beginning of 90's. his life was totally out of wack. Alcohol and drugs had consumed him. He became so self-destructive that he often drunk himself to unconsciousness. There were several reasons behind it. The most influential fact had always been a lack of mentor. He never had anyone to consult with when facing problems. The insecure childhood and hurt feelings that had passed on to his adulthood. He couldn't talk about his problems to his mother because he didn't want her to worry about him. Without anybody to consolidate, he was confused and lost.

Profile


Name: Tony Leung Chiu-Wai
Nickname: Wai Jai
Birthday: 6/27/1962
Birthplace: Hong Kong
Origin: Taishang, Guangdong Province
Chinese Zodiac: Tiger
Height: 175cm
Blood Type: A
Favorite Colors: Blue, Red, Black
Favorite Fruit: Watermelon
Favorite Sports: Swimming, Surfing, Driving


Tony was a very dedicated actor, but he often worked himself into exhaustion trying to perfect his performance. He was always a perfectionist. Sometimes, he went too hard on himself. As the pressure built up, he often released himself into alcohol. During his darkest days, he spent days shooting movies, then nights in the bars. He had trouble to keep himself sober. He was making a habit of self-destruction. Alcohol had ruined everything he ever wanted to achieve. He was losing control of his life. Those were the days of being wild. He didn't pursue his career with same kind of aggressiveness that he had displayed in tvb. He became a lost man without a goal in life. Many times, he failed to capitalize his talent, and let opportunities slip by him.

His transition from tvb to movie hadn't gone smoothly. Many of his early movies were not worth mentioning. He was often a second lead actor behind someone else. Although he was getting paid a lot more, but he wasn't contend to be the 2nd best, or just a supporting actor. In a spill of three years, Tony had won two best supporting actors in HKFA. By 1992, he refused to be nominated for the third time with his role in "Hard Boiled". He believed it was a lead role, not supporting role as the nomination would suggest. He literally declined the nomination by claiming it's totally unfair to him a lead actor running for the best supporting role. He pulled himself out of the race. At the end, the HKFA had to draw his name out of the race.

A New Beginning

Following these career beginnings (comparable to those of other major Hong Kong stars), Tony appeared in a series of "auteur" films which soon earned him a reputation as an extremely versatile actor. Working for several of East Asia's greatest filmmakers, he has turned in outstanding performances.

It is with Wong Kar-wai that Tony has enjoyed his strongest, most durable collaboration, having appeared in five of the writer/director's seven features. Following a cameo appearance in Days of Being Wild (1991), portrayals for Wong have been a wandering knight gradually going blind (in Ashes of Time [1994], for which he won several awards); a solitary policeman in love (in Chungking Express [1994], for which he received the Best Actor award at the Hong Kong Film Awards); and a homosexual facing exile and a painful separation (in Happy Together [1997], for which he again received the Best Actor award at the Hong Kong Film Awards). For his performance in In the Mood for Love, Tony received the Best Actor award at the Cannes International Film Festival. Tony has begun work on Wong Kar-wai's next film, 2046.

His other notable films include John Woo's classics Bullet in the Head (1990) and Hard-Boiled (1992); Stanley Kwan Kam-pang's Love Unto Waste (1986); Derek Yee Tung-shing's The Lunatics (1986); Ching Siu-tung's A Chinese Ghost Story III (1991); Tran Anh-hung's Cyclo (1995); Patrick Yau Tat-chi's The Longest Nite (1998); and Hou Hsiao-hsien's City of Sadness (1989) and Flowers of Shanghai (1998).

In addition to his acting career, Tony is a very popular recording artist. Although he carefully chooses his more serious roles, he also continues to appear in farces and B-movies, making him the hardest actor in Hong Kong to pigeonhole.