Bush defends Iraq war to Britons
( 2003-11-20 01:12) (AP)
Welcomed to Britain with royal pageantry and a smattering of anti-war protesters, US President Bush on Wednesday defended the war in Iraq , saying military might must at times be used to confront the continuing, global danger of terrorism.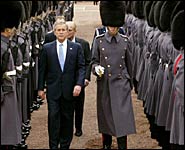 "In some cases, the measured use of force is all that protects us from a chaotic world ruled by force," Bush told academics gathered at Banqueting House.
During a 3 1/2-day state visit here, Bush was seeking to puncture what he views as misconceptions on this side of the Atlantic about the American-led Iraq invasion.
"There are principled objections to the use of force in every generation and I credit the motives behind these views," Bush said, mindful of the bitter opposition among many in Britain and across Europe to the U.S.- and British-led war in Iraq. Demonstrators had lined his motorcade route and protesters chanted outside as he spoke.
But, the president added: "Those in authority, however, are not judged only by good motivations. The people have given us the duty to defend them and that duty sometimes requires the violent restraint of violent men."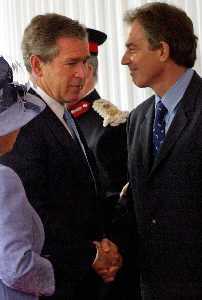 George W. Bush (L) is introduced by Queen Elizabeth to British Prime Minister Tony Blair (R) during an official welcoming ceremony at Buckingham Palace in London. [AP]
Prime Minister Tony Blair , who has faced strong criticism from the British public for remaining America's staunchest ally in the Iraq war, also defended Britain's close relationship with the United States and the coalition's handling of the situation in Iraq.
"It really is about time we started to realize who our allies are, who our enemies are, stick with the one and fight the other," Blair said earlier before the House of Commons, to loud cheers.
In the morning, Queen Elizabeth II and Prince Philip gave a royal salute to the American leader, greeting Bush at Buckingham Palace.
As ceremonial cannon blasts from a 41-gun salute shook the palace, Bush and his wife, Laura, moved down a receiving line with the queen and prince. Bush and the prince then inspected a column of Coldstream Guards, with their trademark gray coats and tall, furry black hats.
Buckingham Palace, the queen's London residence, also was a focal point for demonstrators opposed to the Iraq war. They gathered behind metal barriers Wednesday, watched by large numbers of yellow-jacketed police officers.
But though the light crowd of several hundred protesters was kept several dozen yards from the gates, their chants could be heard inside the grounds as the president greeted dignitaries.
In his speech, Bush invoked the Sept. 11, 2001, terrorist attacks in America to warn against inaction.
"The hope that danger has passed is comforting, is understanding, and it is false," he said. "These terrorists target the innocent and they kill by the thousands. And they would, if they gain the weapons they seek, kill by the millions and not be finished. ... The evil is in plain sight. The danger only increases with denial."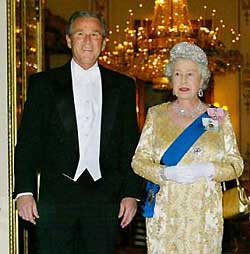 U.S. President Bush (L), Britain's Queen Elizabeth II pose for photographers before the start of the State Banquet at Buckingham Palace in London Wednesday, Nov. 19, 2003. Bush is making a four-day state visit to Britain. [AP]

He compared the threat posed by Saddam Hussein's former regime in Iraq to the Nazi aggression, communism and ethnic cleansing that once menaced the European continent. He reminded his audience of the critical work the Allies did to set postwar Germany on the path to democracy - and thanked the British for their help in setting Iraq on a similar course now.

"Let us never forget how Europe's unity was achieved: by allied armies of liberation and NATO's armies of defense," he said. "Together our nations are standing and sacrificing ... in a distant land at this very hour."

With as many as 100,000 people preparing to march through London Thursday to protest the Iraq war and occupation, Bush acknowledged "good-faith disagreements in your country and mine over the course and timing of military action in Iraq."

But he warned against breaking the coalition's commitment to see Iraq through to a stable democracy, even in the face of a still-rising death toll to coalition soldiers from attacks there.

?"The failure of democracy in Iraq would throw its people back into misery and turn that country over to terrorists who wish to destroy us," he said. "We did not charge hundreds of miles into the heart of Iraq and pay a bitter cost of casualties and liberate 25 million people, only to retreat before a band of thugs and assassins."

Turning to the long-running Israeli-Palestinian conflict, Bush called on Israel to freeze settlement construction and dismantle outposts. He said the Palestinians should end any incitement to terrorists in their media, cut off funding to terror groups and establish normal relations with Israel.

He asked European nations to do their part, as well, by refusing to support Palestinian leaders who maintain ties with terrorist groups and profit from corruption.

"These are the methods of the old elites, who time and again have put their own self-interest above the interests of the people they claim to serve," Bush said in a transparent reference to longtime Palestinian leader Yasser Arafat, who Bush has called a member of the "old guard."

On the first full day of his visit in England, Bush was hoping to sway people here like Nina Baker, a Scottish Green Party activist from Glasgow.

"Everything about (Bush) is just deeply depressing," she said Wednesday outside Buckingham Palace. "Bush stole the presidency, Blair lied to the people, Bush led us down the path of war. They are not listening to the public."

Bush was reaching out to a second audience as well, by granting an interview to the London-based Al-Sharq Al-Awsat newspaper, which has an Arab readership. Also Wednesday, he met with liberal and conservative members of Parliament and planned to see relatives of Britons lost in the Sept. 11 attacks.

Thursday, Bush was to sit down with family members of British soldiers killed in Iraq.