Michael Jackson's Neverland ranch raided in criminal probe
( 2003-11-19 09:16) (Agencies)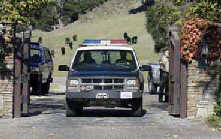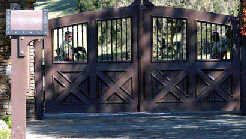 Police are seen outside Michael Jackson's Neverland Ranch in Los Olivos November 18. [AP]

Investigators conducting a criminal probe swarmed Michael Jackson's Neverland Ranch on Tuesday. The purpose of the search was not disclosed.

Jackson and his three young children were not at the ranch at the time of the raid, his spokesman, Stuart Backerman, told The Associated Press. He said that for three weeks Jackson and his family have been in Las Vegas, where Jackson was filming a video.

Backerman declined further comment, saying he lacked detailed information about the investigation.

Sixty to 70 personnel from the Santa Barbara County sheriff's and district attorney's offices served a warrant about 8:30 a.m. as part of an "ongoing criminal investigation," Sgt. Chris Pappas said.

Detectives were expected to be gathering evidence all day. No one was arrested, and as of midday there was no arrest warrant issued, Pappas said at a command post.

The district attorney's office had no comment, said legal secretary Debbie Popp.

The $12.3 million Santa Ynez Valley property, which has a mansion, its own zoo and amusement park with bumper cars, a merry-go-round and Ferris wheel, has often been the site of children's parties.