U.S. jets pound Iraqi insurgent targets
( 2003-11-19 09:00) (AP)
U.S. jets blasted suspected hideouts with 500-pound bombs in the military's biggest operation in central Iraq since the end of active combat. Later, troops rained mortar fire on Tikrit in a warning to insurgents accused of attacking U.S.-led troops.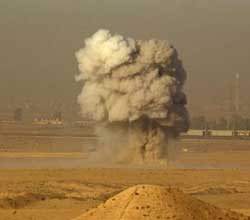 In this image from the US Air Force made available Tuesday Nov. 18, 2003, a strategic target in Kirkuk, Iraq is obliterated during an air strike as part of Operation Ivy Cyclone, a combined-arms operation designed to root out and crush insurgents in Iraq Nov. 17, 2003. [AP]

Meanwhile, in Mosul, two more U.S. soldiers were wounded Tuesday by a roadside bomb, the U.S. military said. Officials also said an American civilian contractor had been killed a day earlier by a land mine near Baghdad.

But a U.S. general claimed progress on another front ¡ª preventing foreign fighters from entering Iraq from neighboring nations to carry out attacks on American forces.

"We are going to take the fight to the enemy using everything in our arsenal necessary to win this fight," Maj. Gen. Charles H. Swannack Jr. said Tuesday.

Military officials also confirmed Tuesday that a short-range missile launched two days earlier hit a house south of Tikrit owned by former Iraqi official Izzat Ibrahim al-Douri, accused by the U.S. military of being behind many attacks against coalition forces.

There was no indication anyone was inside at the time, a U.S. Defense Department official said on condition of anonymity.

The U.S. air assault early Tuesday was centered around Baqouba, 30 miles northeast of Baghdad. U.S. jets and Apache helicopter gunships blasted abandoned buildings, walls and trees along a road where attacks have been so common that troops nicknamed it "RPG Alley" after the rocket-propelled grenades used by insurgents.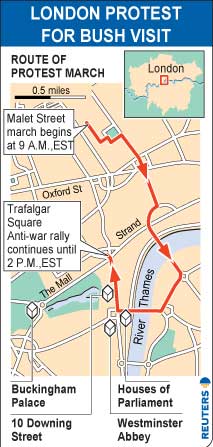 George W. Bush and Tony Blair will mount a defiant show of solidarity after the U.S. president flies to London on November 18, 2003 for his first visit to a major European capital since war in Iraq polarized the world. Tens of thousands of protesters have vowed to give the president his first taste of European anger at the war. [Reuters Graphic]


Fighter-bombers dropped 500-pound bombs and battle tanks fired their 120mm guns at suspected ambush sites, the U.S. military said.

Elsewhere, F-16 fighter aircraft Tuesday bombed insurgent targets near the town of Samara, about 60 miles north of Baghdad, the military said.

Later Tuesday, U.S. troops fired mortars on areas in Tikrit used by suspected insurgents to launch mortar and rocket attacks against coalition forces, officials said.

One group of Bradley fighting vehicles and armored personnel carrier fired 17 mortar rounds toward a bunker that was part of Saddam's former military defenses south of the town and an outlying farm to the north.

The targets were uninhabited and the attacks were meant to scare insurgents from using them as platforms for assaults, said U.S. Lt. Colin Crow, who oversaw the mortar firing.

"Basically, we're kind of claiming the ground that the enemy is using at us," he said. "They have to move further and further out."

The stepped-up U.S. military operations followed an escalation in attacks over the past three weeks.

The strategy appeared aimed at showing U.S. resolve as Washington prepares to hand over political power to a new Iraqi provisional government by the end of June, but risks further alienating an Iraqi population already chaffing under foreign military occupation.

In Baghdad, Swannack told a news conference that the robust tactic "demonstrates our resolve."

"We will use force, overwhelming combat power when it's necessary," he added.

Swannack, whose troops patrol such hotspots as Fallujah, Ramadi and the borders with Syria and Saudi Arabia, said he believes most of the insurgents are Iraqis.

"Ninety percent of the cases are from regime loyalists and (Iraqi) Wahhabis," he said. Wahhabis are members of a puritanical Islamic sect that dominates Saudi Arabia and has followers in Iraq.

"We are not fighting foreign fighters coming across the border in significant numbers," Swannack said. "We are fighting mostly former regime locals."

He said 13 foreign fighters were recently captured in Anbar Province, and seven were killed. He did not have their nationalities.

Swannack said the decrease in foreign fighters crossing from Syria was due to a heavier U.S. troop deployment along the borders. He said the number of American troops in Anbar Province had increased threefold to 20,000 in the past two months.

In a statement Tuesday, U.S. Army officials said paratroopers searched neighborhoods in Ramadi late Monday, detaining about a dozen people and seizing explosives and other materials for making roadside bombs.

The statement said one man was arrested after troops found "jihad signup sheets" in his house. The man was suspected of financing and supervising the placement of roadside bombs around the city, officials said.