A-Do-rable singer
( 2003-11-19 08:43) (eastday.com)
He's a household name in the Chinese pop music scene, but the Mando-pop sensation they call A-Do is a reluctant superstar. The Singaporean singer with the hoarse, sexy voice has the crowds screaming, but is still terribly shy -- and very proud of his blue-collar roots.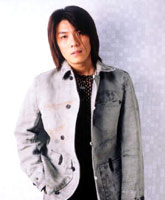 At Saturday's star-studded Asian Anti-piracy Concert in Shanghai, pop sensation A-Do was belting out hits with that signature husky voice, and the fans were swooning.
It was a very different story when I met with him in Singapore, the week before the concert. A-Do, whose real name is Do Cheng Yi, couldn't get up the nerve to sing during a photo shoot.
The photographer had asked him to sing, hoping that it would open him up, but couldn't get a squeak from the singing sensation -- not even when he was asked to just sing along with one of his CDs. He may make a living doing it, but singing in front of a crowd has never been easy for A-Do. ``I'm not used to it,'' he insists.
``I freeze in front of the camera. I'm basically introverted,'' says the 29-year-old Mando-pop idol, admitting that it took him nearly a year to get ready for the stage.
``I just got very nervous whenever I was onstage. My voice would start to waver and then go off-key. I simply couldn't sing properly in front of a big crowd,'' he admits.
``Luckily, when I first auditioned for Ocean Butterflies (his record company), it was in a small room, so I was able to give it my best. Without worrying about the audience!''
And as a result, A-Do doesn't have the outgoing, show-off personality that seems to come with celebrityhood.
Whenever his friends wanted him to participate in a singing contest, A-Do would always pull out at the last minute because of the jitters. Unbelievably, he was a karaoke competition washout. It wasn't until his current record label persuaded him to take part in a tryout that the singer released his debut album, ``Tian Hei'' (``Nightfall''). The album, and its singer, were an overnight success.
In just one year, A-Do has launched two albums that have sold more than 1.5 million copies in Asia, and has concert promoters in China queuing up to offer him S$60,000 (US$34,880) per show. Asia has been hooked on that raspy voice and his fascinating construction worker-turned-singer story since he broke into the highly competitive Mandarin music scene last year.
His story sounds like a stereotyped rags to riches Hollywood screenplay: A-Do comes from a single-parent family, quit school at 15, waited tables, repaired cars and worked construction sites to make ends meet.
His singing talent was first discovered by none other than his fellow workers, who convinced him to audition for a record label -- and the rest is Mando-pop history. ``I'm not one of those who is ambitious and goal-getting,'' he says.
``I was pushed forward by encouragement and trust from friends and family. I'm thankful for every step that they pushed me.''
Do plies his trade like most other Mando-pop acts, by singing love ballads, but unlike those who often get criticized for ``singing without emotion,'' his love songs are deeply touching. His hoarse yet powerful voice reminds fans of American singer Richard Marx.
Perhaps because he became a household name overnight, this shy, down-to-earth singer is still not used to being in the spotlight. This is why it took him so long to hit the big screen: He admits that it is because he tenses up in front of the camera.
But Hong Kong director Ng See-Yuen never let up, giving him pep talks and creating a romantic movie just for him. The movie, also starring Michelle Reis, tells of a transient worker (A-Do) who finally parts with his childhood sweetheart (Reis) after she returns, completely changed, from a trip abroad.
``It was a big challenge for me. At the very beginning, I turned down the role because I hate to make everyone wait for me to get into the swing. I'm simply not movie material. I knew I'd be slow,'' he laughs, running his fingers through his mane. But after three-months of negotiation and coaxing, director Ng finally talked him into it.
``Still, I kept my fingers crossed,'' he confesses. A-Do's fame came hand in hand with growing fortune. He is already the face of a shampoo brand, casual apparel and sports shoes. Yet despite his newfound riches, he is hardly a spendthrift by any stretch of the imagination.
He still drives his family car, a small Honda, and prefers T-shirts and jeans over designer labels. His one indulgence? Buying Buddhist amulets. He hasn't forgotten his roots, either. In a world of wanna-bes and pretenders, A-Do is happy to talk about ``blue-collar'' history and grassroots experiences and sensibilities.
To this day, his former construction colleagues are still his best buddies. Just as he has not got used to the jet-setting lifestyle (most of the time, he says, he's scared stiff to get on an airplane), A-Do has not been at ease with his rise to fame. And it is just this unassuming attitude that makes him all the more appealing to his legions of fans.