Personal RMB service OK'd in HK
( 2003-11-19 08:33) (China Daily)
The central government has given the green light for Hong Kong banks to operate personal renminbi banking services starting by the end of this year or early next year, Chief Executive Tung Chee-hwa announced Tuesday.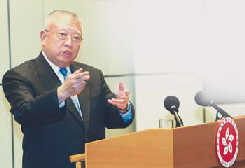 Chief Executive Tung Chee-hwa announces that the central government has given the go-ahead for Hong Kong banks to operate personal renminbi banking services at a press conference November 18, 2003. [newsphoto.com.cn]
Local banks will be allowed to operate four types of services: deposit taking, exchange, remittance and credit cards.
The move is aimed at facilitating trade and personal movements between the mainland and Hong Kong and the orderly flow of renminbi from Hong Kong to the mainland, the People's Bank of China (POBC), the central bank, said in a statement Tuesday.
The announcement came after months of negotiations between Hong Kong and Beijing. Tung revealed that he had earlier discussed the issue with Premier Wen Jiabao.
The PBOC and Hong Kong Monetary Authority will sign a memorandum on the plan in Beijing today. Vice-Premier Huang Ju will attend the event.
The arrangement will "consolidate Hong Kong's position as an international financial hub", Tung said.
In Beijing, visiting Hong Kong Financial Secretary Henry Tang called the arrangement "a milestone" because it will be the first time renminbi services are offered offshore.
Tang said the four pilot services will enhance Hong Kong's status as a financial service centre and promote economic integration between Hong Kong and the mainland.
In particular, he highlighted the introduction of the renminbi credit card service, saying it would greatly encourage spending by mainland tourists visiting Hong Kong.
He brushed aside worries that the new renminbi services will affect Hong Kong's monetary system, as the "Hong Kong dollar is the legal tender in the territory".
Also speaking in Beijing, Joseph Yam, chief executive of the Hong Kong Monetary Authority, said that a Hong Kong bank will be appointed as the clearing bank for the renminbi services.
It must be very familiar with financial and banking policies and laws in Hong Kong and the mainland and have an extensive network in both places.
Some analysts say the Bank of China (Hong Kong) is most likely to become a clearing bank for yuan-denominated banking services in the territory.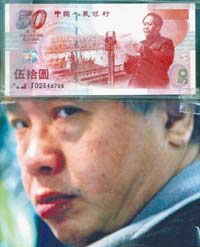 A yuan banknote featuring Mao Zedong is displayed at a foreign-exchange centre in Hong Kong November 18, 2003. [Reuters]
"BOCHK is interested in and confident of taking up the role of the renminbi clearing bank in Hong Kong," the bank said in a statement.
The selection process could take one or two months, Yam said.
But he noted that Hong Kong banks could start issuing renminbi credit cards immediately since the service would not require a clearing bank.
With two currencies, "there is a lot that needs to be done to facilitate the more efficient financial intermediation" between Hong Kong and the mainland, Yam said.
"There are very important infrastructural issues and this is a very good start, a promising start. It will enable Hong Kong to play a significant role in financial intermediation involving Hong Kong and the mainland," Yam said.
He said using Hong Kong to conduct renminbi banking business will benefit the mainland as well.
"It is a way of indicating how this sort of business could be operated in a free-market environment and will give the mainland quite a lot of insight into how a liberalized capital account could look like."
Meanwhile, Yam played down the concern that the new initiative would lead to more money-laundering activities.
"You can be assured that we have a lot of guidance and have a system in place," he said.
Introduction of renminbi business to Hong Kong banks would not have any impact on the exchange rate of the currency, given the comparatively small amount of supply and demand, Yam said.
He dismissed any concern of significant impact on the Hong Kong dollar from possible future moves by some Hong Kong residents to transfer their Hong Kong dollar deposits to their renminbi accounts to seek fatter interest earnings, on the estimation that the amount would be relatively small.
The renminbi services on offer
** Deposit taking: Participating Hong Kong banks can offer renminbi deposit-taking services to Hong Kong residents.
** Exchange: Participating banks can offer a service for converting renminbi into HK dollars and vice versa. The maximum amount that can be exchanged per person per day is the equivalent of 20,000 yuan.
** Remittances: Participating banks can offer RMB deposit account holders a service for remitting from their Hong Kong accounts renminbi funds to accounts under the same name on the mainland. The maximum is 50,000 yuan per person per day.
** Renminbi cards: Mainland residents can use renminbi-debit cards and credit cards issued by mainland banks for spending in Hong Kong. Participating banks can issue renminbi debit cards and credit cards to Hong Kong residents.