US envoy confers on six-party talks
( 2003-11-18 23:40) (China Daily)
James Andrew Kelly, the United States assistant secretary for East Asian and Pacific Affairs, arrived in Beijing yesterday afternoon to discuss the nuclear issues of the Democratic People's Republic of Korea (DPRK) with Chinese officials.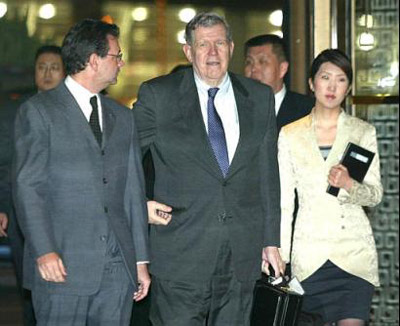 James Kelly (center) arrives at a hotel in Beijing. [AP]
After a three-day visit to Japan, Kelly will exchange views with China on the preparation of a new round of six-party talks, US-China relations and other important international issues, said Liu Jianchao, spokesman of the foreign ministry, while providing no further details.
Kelly is scheduled to leave Beijing for Seoul later today, the last stop of his three-nation Asian tour.
When asked to comment on a DPRK statement that with a US offer of written security assurances, the DPRK would consider to abandon its nuclear programmes conditionally, Liu said the Chinese side welcomes the declaration.
"We maintain that it is an important, positive message sent by the DPRK to the international community. It further demonstrates the sincerity of the DPRK and is conducive to achieving the goal of resuming dialogue.''
Liu said the Chinese side hopes that all parties concerned will take positive steps to peacefully solve the nuclear issue, ahead of an early opening of the second round of six-party talks, said Liu.
Turning to the topic of the proposed Sino-Russian oil pipeline project, the spokesman said China has noticed reports that Russia has refused construction of the oil transmission pipeline from Angarsk oil fields in eastern Siberia to refineries in Northeast China.
He said Sino-Russian co-operation in the oil sector, consistent with the economic development of the two countries, is a most important part of bilateral economic and energy co-operation.
When Premier Wen Jiabao met his counterpart Mikhail Kasyanov this September, China and Russia chose to continue to implement their co-operation in the energy field, he said.
That means the two sides will boost co-operation between companies in oil pipeline construction, oil field exploitation, and oil and natural gas exports to China according to a joint statement signed by the two countries' top leaders on May 27.
Liu said he believes the two countries would honour their commitments.
Responding to the US Central Intelligence Agency's report that nuclear co-operation between China and Pakistan is suspected involving nuclear weapons, Liu said China is a contracting party of the Treaty on the Non-Proliferation of Nuclear Weapons and firmly opposes any form of proliferation of nuclear weapons.
He said the co-operation on nuclear power between China and Pakistan is strictly for peaceful purposes and does not infringe on any obligation under the non-proliferation treaty.
"China is willing to receive safeguards and supervision from the International Atomic Energy Agency,'' said Liu.
The spokesman also noted that several foreign military delegations are visiting China, including an Indian delegation headed by Mohinder Singh, General Officer Commanding 4 Corps.
The Indian delegation has visited bases and colleges in Beijing, and will visit Lhasa, capital of the Tibet Autonomous Region in Southwest China, and Chengdu, capital of Southwest China's Sichuan Province.
"The ongoing visit of an Indian military delegation is normal and friendly,'' said Liu.