Japanese sex scandal to be revealed
( 2003-11-18 23:40) (China Daily)
A hearing to unravel the scandal surrounding hundreds of Japanese men who allegedly had sex with prostitutes at the same hotel is expected to start soon in the Zhuhai Intermediate People's Court.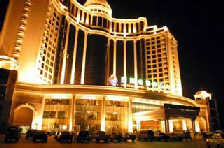 The Zhuhai International Convention Centre.

The defendants include hotel managers, nightclub bosses, pimps, prostitutes and employees of a local Japanese-funded company.

They are all suspected of having a role in September's incident in the Zhuhai Special Economic Zone in South China's Guangdong Province, which sparked outrage on the Chinese mainland. It allegedly involved more than 400 Japanese male tourists and at least 500 prostitutes.

A court official, who spoke on condition of anonymity, said yesterday the defendants can expect up to 10 years in jail if they are found guilty.

The official did not reveal the exact starting date for the hearing but said it could last a few days.

The Zhuhai International Conference Hotel and the Yuehai Hotel, both luxury hotels, were closed after news of the incident broke.

Between September 16 and 18, the Japanese tourists were allegedly entertained by prostitutes at the five-star Zhuhai International Conference Centre Hotel, where the men were staying.

The Japanese and women had met earlier during an evening banquet at the Yuehai Hotel, it is claimed.

It is alleged the women were found around the city and at the five-star hotel's nightclub.

The Japanese tourist group included high school students who were about 16 years old and men as old as 37, it is claimed.

The prostitutes were allegedly paid between 800 yuan (US$96.4) and 1,800 yuan (US$216) to entertain their clients for a night.

At least 500 prostitutes were seen by guests and local residents in the lobby of the Zhuhai International Conference Centre Hotel, it is alleged.

The court official reiterated that prostitution is illegal on the Chinese mainland and those who have violated the law will be punished.

When the case was exposed, many Chinese people were angered both by the scale of the incident and the sensitive timing -- when the Chinese people were marking the 72nd anniversary of the start of the Japanese army's invasion of Northeast China in 1931.